Primetime Emmy Award-winning British actress, Archie Panjabi is widely known for her role as Kalinda Sharma on "The Good Wife." She is also famous for her portrayal of Yasmin Husseini in "Yasmin," Pinky Bhamra in "Bend It Like Beckham" and Asra Nomani in "A Mighty Heart."
Early Life & Education
Archana "Archie" Kaur Punjabi was born on 31 May 1972 in Edgware, Middlesex, England. She is the daughter of Govind and Padma Panjabi, both Sindhi Hindu immigrants from India. Archie spent a part of childhood in Mumbai. During her time in Mumbai, she enrolled school in Churchgate after that she went to Nariman Point. Panjabi fantasized of one day becoming an actress as a child and coming back to her native town to shoot a film there. She grew up with a huge interest in ballet and is now a trained ballet dancer.
In 1996, Punjabi gained her degree in Management Studies at Brunel University in West London. She wanted to continue a doctorate in management, but then her acting career started to pick up just then. Throughout the opinion of EastEnders star, Nick Berry, to whom Archie wrote a letter, she discovered herself an agency to get herself started in the entertainment business.
A throwback of young Archie Panjabi (Meenah Khan) pic from her first film, "East Is East" (1999)
Source: Instagram/Archie Panjabi
Career
She began her acting career on the television series "Siren Spirits" where she played Joyoti in the Episode of "Bideshi" in 1994. After making her appearance on various television series and short films, she landed the Damien O'Donnell's comedy-drama film "East is East" in 1999, playing Meenah Khan, the sixth child, and the only daughter. The film made a huge success and received a ten-minute standing applause at Cannes and in 2000, it was named Best Film by BAFTA.
Later in 2002, Panjabi appeared in the international hit film "Bend It Like Beckham," where she played Pinky Bhamra. The film was produced, written, and directed by Gurinder Chadha and was nominated for a BAFTA and GOLDEN GLOBE. Archie won a BBC Mega Mela for her performance.
In 2004, she made her lead role in the award-winning drama film "Yasmin" playing Yasmin along with Renu Setna. The film was directed by Kenneth Glenaan and written by the Oscar-winning writer of 'Slumdog Millionaire,' Simon Beaufoy. Panjabi's appearance was internationally acclaimed and awarded numerous Best Actress Awards including one from the prestigious Berlin International Film Festival.
Archie then went to work with Ralph Fiennes in the John Le Carre novel "The Constant Gardener" in 2005 playing Ghita Pearson, the close friend of murder victim Tessa Quayle (Rachel Weisz). The film was nominated for 10 BAFTA and won an OSCAR.
A Mighty Heart
In 2007, Panjabi appeared along with Angelina Jolie in the film "A Mighty Heart," where she played a fellow journalist Asra Q. Nonami, who helped Mariane Pearl (Jolie) in the search for her missing husband. The film was based on the true story of Wall Street writer, Daniel Pearl. Archie won The Chopard Trophy for her performance at The Cannes Film Festival in 2007.
Archie Panjabi with Angelina Jolie on the set of A Mighty Heart
Source: aflamtube.com
She proceeded to take a role as Rita Dhillon in the BBC surreal black comedy series "Grease Monkeys" from 2003 to 2004. Then, she appeared as a minor role in the original version of the series "Life on Mars" from 2006–2007.
The Good Wife
In 2009, Panjabi drained for a series regular role in the CBS drama "The Good Wife" opposite Julianna Margulies. On the show, she played a lead role, Kalinda Sharma. Her performance had gained her a Primetime Emmy Award on 2010, in 2012, NAACP Image Award, Emmy Nominations, Golden Globe nomination as well as 3 Screen Actors Guild Award nominations with the cast.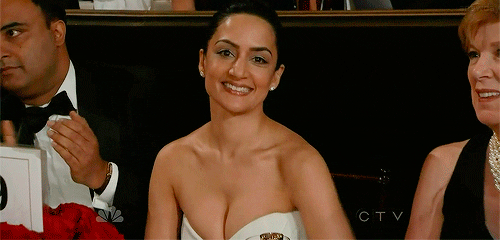 Other Notable Credits
Panjabi's other notable TV series and films: Under the Moon ( 1995), The Thin Blue Line( 1996), Dad( 1997), Delilah( 2001) Black Nor White (2002), This Little Life( 2003), Sea of Souls( 2004), A Very Social Secretary (2005), A Good Year (2006), Flying Lessons  (2007), Traitor(2008), Be Good (2009), The Infidel(2010), The Disappearance of Eleanor Rigby (2013), I Origins (2014) , Brooklyn Nine-Nine (2015) , Power Monkeys9 (2016) and much more.
Current Project
Panjabi is currently appearing as a Professor Reed Smith in crime drama television series "The Fall." The series is created and written by Allan Cubitt and produced by Artists Studio. She has been working since 2013 to present.
Panjabi is also making her regular role in the crime drama television series "Blindspot" where she is playing, Naz Kamal since 2016. The series, which started premiering on September 21, 2015, is created by Martin Gero.
Other Works
Panjabi was named the first Pratham USA Ambassador, representing the largest educational movement in India. She is a partner of Amnesty International's Stop Violence Against women campaign and has participated in Harvard's Artist in Residence Program. Panjabi has walked in "The Heart Truth's Red Dress Collection Fashion Show" on 9 February 2011, to raise the consciousness of the danger of heart disease, the number one killer of women.
Archie Panjabi attended the Victoria's Secret Fashion Show.
Source: Pinterest
She was also invited by Harvard Foundation and Office for the Arts at Harvard University to cooperate in their Artist in Residence Program in Cambridge, Massachusetts, to give her creative process as an actress.
Personal Life & Net Worth
Archana Punjabi is a happily married woman. She and Rajesh Nihalani has been married since 1998 a tailor. The two got married through arrange marriage which is common in Indian households. She holds an English nationality and is of Sindhi ethnic background.
Archie Panjabi ( Right) her husband, Rajesh Nihalani ( Left)
Source: windsorrugby.info
Net Worth
The 5 '3″ actress has already gained numerous awards through her career. Panjabi main income flows in from her acting and brand endorsements, which add up her current net worth of $3 million. She has a seductive body measurement of 34-26-30. Panjabi is active on social networking sites like Facebook, Twitter, and Instagram.
Others