Five Interesting Facts about Selena Gomez rarely talked in Hollywood
Starting a career with Disney, then turned from a Popstar to a movie star, Selena Gomez is the young actress and musician who became one of the highest paid actresses in 2014 with the total earning of $96 million.
The more we talk about the star the more we get to know about her. She is just like a mystery in a treasure box. And today we have brought some of those hidden mysteries about the star which you should know. So if you are really interested then here are some of the facts about the stunning musician, actress, Selena Gomez.
Five Facts You Need to Know About Selena Gomez
Selena Gomez was born on 22nd July 1992 in Grand Prairie as Selena Marie Gomez. She was named after Tejano singer and actress Selena Quintanilla-Perez. Selena was born when her mother was 16 years old.
Talking about her interest in acting, she gained an interest in pursuing a career in the entertainment industry after watching her mother preparing for a stage production.
Selena Gomez- Dream Out Loud
Selena launched Dream out Loud in 2010. If you are wondering about Dream Out Loud then it is just a clothing line for those who want to express their personality with great fashion and love to Dream Loud.
Also read: Selena Gomez Instagram Hacked, Leaked Justin Bieber Nude Photos, Know their past affairs and relation
Selena Gomez, Source: HawtCelebs
She insisted on using eco-friendly materials and said that using Eco-Friendly material and the tags have inspirational quotes on them.
Youtube: 5 Things You Need to Know about Selena Gomez
Selena Gomez- Most Followed Instagram Account
It's true that Selena has snagged the top spot. She is one of the most followed Instagram accounts in 2017. She has become the queen of Instagram with the most followed celebrity on Instagram for 2017 with 131 million followers.
Also read: Who is Selena Gomez dating? Know detail about her relationship and past affairs
Instagram: Selena Gomez
Selena Gomez- Mother of Six Rescue Dogs
Selena is a mother to six rescue dog. She has a collection which includes Willie, Wallace, Finn, Chip, Chazz, and Baylor. She adopted Baylor an adorable husky mix with on a trip to Canada with her loving one Justin.
[ CAPTION: Selena Gomez ]
[ SOURCE: Pinterest ]
Selena Gomez's BFF Taylor Swift
Taylor Swift and Selena Gomez are known for their friendship. However, they've had few rough patches in their past but now they have grown closer over these years. They have been BFF's since 2009 and are still going strong.
Selena Gomez's BFF Taylor Swift, Source: Billboard
It is said that a good friend is like a four-leaf clover. Hard to find and lucky to have and it looks as if the friends, Taylor and Selena really look like a four-leaf clover.
Selena Gomez- First Kiss
Selena had her first kiss when she was just 12 years old. Well talking about the lucky guy with whom she had her first kiss was none other than Dylan Sprouse. Selena said that she actually leaned in to kiss him.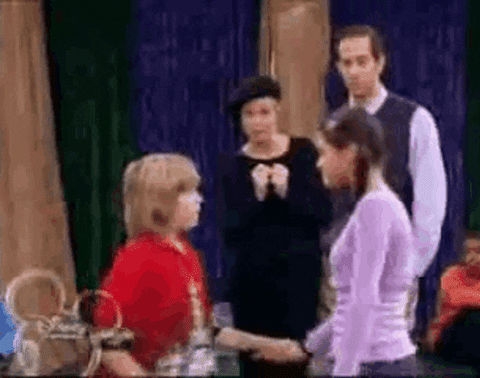 Selena Gomez, Source: giphy.com
So here we come to an end of our discussion about the star Selena. We just hope that you enjoyed reading this. Which of the facts shocked you let us know through your comment below.
Others