American actress, Natalia Dyer is famous for playing Nancy Wheeler in the Netflix sci-fi drama series "Stranger Things".  She is also a writer who published a book  "A Brush with Life," and has been active in the industry since 2009–present.
Early Life & Education
Natalia Dyer was born on 13th January 1997 in Nashville, Tennessee, United States.  She attends New York University. Dyer has not mentioned about her parent's name on her bio. She holds an American nationality and belongs to white ethnicity.
#tbt of Little Natalia Dyer at Dollywood and Gatlinburg
Source: Instagram/Natalia Dyer
Acting Career
At the age of twelve, she made her debut in the teen musical comedy-drama film "Hannah Montana" as Clarissa Granger in 2009. Peter Chelsom served as a director and screenplay penned by Daniel Berendsen. David Blocker along with his crew, Billy Ray Cyrus, Alfred Gough, Miles Millar, Steven Peterman and Michael Poryes produced. The film tells of how Hannah Montana's reputation starts to take over Miley's life. Her father urges her to take a tour to her hometown of Crowley Corners, Tennessee to get some perspective on what matters most in her life. The film released on April 10, 2009, in the United States and Canada. The Movie Hannah Montana became a successful movie of the year.
Natalia Dyer Photoshoot for Rogue Magazine
Source: Instagram/Natalia Dyer
Again in 2009, then Natalia got a chance to worked along with Brooke Shields and Aidan Quinn. "The Greening of Whitney Brown" in 2011, where she played a role, Lily. It is an adventure film which was directed by Peter Skillman Odiorne.
She has done several movies such as "Too Sunny for Santa" (2010), "Blue Like Jazz" (2012), "I Believe in Unicorns" (2014), "The City at Night" (2014), "Till dark" (2014), "Long Nights Shorts Mornings" (2016), Don't Let Me Go" (2016) and much more.
Stranger Things
Dyer led as Nancy Wheeler in Season 1 of the Netflix web series "Stranger Things" in 2016. Duffer Brothers served as a creator, writer, director. Shawn Levy and Dan Cohen worked as a co-executive-producer. She has played a role the popular high school girl whose attention turns from dating cute boys to winning mysterious beings when her best friend Barb swiftly disappears, too. Somewhat to blame for leaving her bestie alone while she's busy catching up with her new crush, Nancy yields from major guilt as she sets out to find her friend.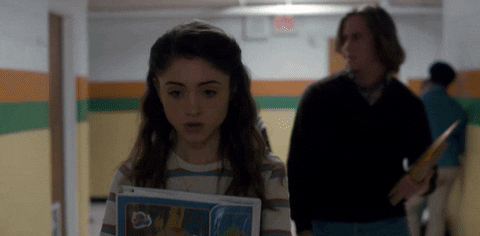 Soon, she finds her whole life changed upside-down when she sees the Upside Down, an alternative universe that houses one very ugly monster that's sure to inspire a dream or two. The series has earned several industry nominations and awards. In 2016 the series received Screen Actors Guild Award for Outstanding Performance.
Netflix renewed the series for the second season of nine episodes on August 31, 2016, which is set to be released on October 31, 2017. Industry reports have confirmed that she will return in Season 2.
Personal Life: Boyfriend, Net Worth
Natalia Dyer and Charlie Heaton attracted the media when they first rumor to dating in September 2016. The rumors speculated when they both Instagrammed photos from a trip to Spain. Be as that may, they refused to speak out about whether they were more than just friends.
Stranger Things star, Natalia Dyer and Charlie Heaton leave Los Angeles after attending the Golden Globe Awards
Source: Gio/X17online
According to an insider, tells Life & Style that they are, in fact, a thing. "They're definitely dating. They've been together since before season two began filming in October," the source shares. " The two spend every waking minute together, on set and off." Even, Natalia brought Charlie to her hometown of Nashville to meet her family. However, the stars did not pose by themselves on a red carpet. Rather, they took photos with costar, Joe Keery.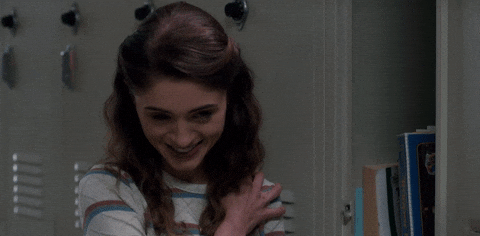 She earns her salary from her acting career, however, her exact net worth has not revealed yet. But some wiki sites mentioned that Natalia Dyer's estimated net worth is $200 thousand.
Interview with Cosmopolitan
When talking about her role on the hit series, Natalia told Cosmopolitan, "I do see a lot of roles that are, like, the girlfriend or the love interest or the girl next door. Maybe not totally well-rounded kinds of characters — women who are more of a plot device in a way. It was really nice to see a character like Nancy."
She added "She does have that love triangle and boy drama aspect to her, but she's independent and strong, and her main focus is about finding her best friend and solving that mystery at any cost. It's such a blessing to get to live in that role and bring that to life. And to be surrounded by other female characters while you're doing it! Having strong women who aren't damsels is so nice." She is an excellent writer too, who recently published a book with a name "A Brush with Life".
Save
Others