Quick Facts Adam Levine
Name

Adam Levine

Birth Name

Adam Noah Levine

Father

Fred Levine

Mother

Patsy Noah

Nationality

American

Ethnicity

White Ethnicity

Profession

Singer, songwriter,Actor

Net Worth

$6 million

Face Color

White

Weight in KG

77 kg

Famous For

Singer

Married

Yes

Married to

Behati Prinsloo (m. 2014)

Education

Five Town Collage

Awards

Not Yet

Online Presence

Facebook,Wiki,Twitter,Instagram

Music Group

Maroon 5 (Since 1994)

Movies

Begin Again

TV Show

The Voice

Siblings

Liza Levine, Julia Milne Levine, Michael Levine, Sam Levine
Synopsis
Adam Levine is an American singer, songwriter, multi-instrumentalist, actor, and record producer. He is a Grammy Award-winning lead singer of Maroon 5, one of the most popular band in the world and also serves as the judge of the reality singing show "The Voice". In 2007, Adam appeared in the 33rd-season premiere of Saturday Night Live in SNL Digital Short called Iran So Far, performing with Andy Samberg, Fred Armisen, and Jake Gyllenhaal.
Adam Levine Early Life and Education
Adam Levine was born on March 18, 1979, in Los Angeles, to Fred Levine, the founder of retail chain M. Fredric, and Patsy Levine, an admissions counselor. He has two brothers Michael and Sam and also has two sisters, Liza Levine and Julie Levine.
Adam Levine has an earlier musical start
Source: KarasFlower
Levine's father and maternal grandfather both are Jewish while his maternal grandmother was a Protestant of Scottish and German descent. But Levine considers himself as Jewish. His parents divorced when he was seven. Levine used to spend weekends with his father and weekdays with his mother. Levine used hallucinogenic drugs in his adolescence period.
Young Adam Levine in 8th Grade at school in 1993
He attended high school at Brentwood school at Los Angeles, California where he would get more into music. And met Jesse Carmichael and Mickey Madden, who became his future bandmates. He attended Five Towns college in Long Island.
Adam Levine Career
Adam Levine, the lead singer of the most celebrated band Maroon 5, formally formed a band 'Kara's Flowers' in 1995 with his schoolmates Jesse Carmichael, Mickey Madden and Ryan Dusick. The band appeared for the first time in the club named 'Whisky a Go Go' at a West Hollywood nightclub and released their first album, The Fourth World, in 1997. Kara's Flowers released one single, "Soap Disco," and appeared in an episode of Beverly Hills 90210.
Adam Levine's Band, Kara's Flowers Promo Poster "The Fourth World" 1997
Source: Kara's Flowers
Maroon 5
While he was doing the work of writers he started writing songs to his ex-girlfriend Jane, which came out for the first time in the album of Maroon 5 under the title "Songs about Jane" which was released in 2002 and become very much popular. Maroon 5 earned their first Grammy Award for best new artist in 2004 and win Grammys for best pop performance in 2005 and 2007.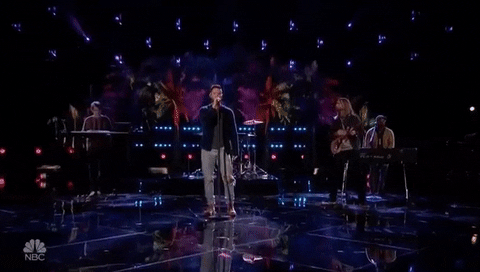 The band under the Levine started to record their songs and released their second album "It won't be soon before long' in 2007. In 2008, he appeared on the tv show 'Night of too many stars'. He was one of the 80 musicians who sang "We are the World 25 for Haiti" in 2010. In 2011, he came out with the popular song 'Moves like Jagger' which peaked at No. 1 and No. 2, respectively, on the Billboard chart and sold over million of copies in 2011 and 2012.
Maroon 5 returned with its fourth studio album, Overexposed, featuring "One More Night" and "Payphone" with Wiz Khalifa in 2012. They gained great popularity with, V in 2014 containing hits "Maps" and "Animals," followed by a world tour in 2015.
Beyond Music
In television, he made a comedic appearance on Saturday Night Live in 2007 and A Night of Too Many Stars, Jimmy Kimmel Live. Levine became full-time TV gig as a judge/coach on the reality series The Voice In 2011. In November 2013, by People magazine, he was named as "Sexiest Man Alive".
Levine practices yoga under the instructor Chad Dennis, he began this practice as a way to relieve his back pain and eventually replace his weight lifting with yoga. Levine whose brother identifies as a gay is a supporter of same-sex marriage and LGBT rights.
Adam Levine Personal Life and Net Worth
In 2010, while performing in Las Vegas, Levine met a Russian model Anne Vyalitsyna. He dated her for two years and then split up on 2012. The couple was introduced at that year's Sports Illustrated Swimsuit Issue release party.
Then, he met Namibian model Behati Prinsloo in May 2012 and married her on July 19, 2014, in Cabo San Lucas, Mexico. Prinsloo gave birth to the couple's first child, Dusty Rose Levine in September 2016.
Adam Levine and Behati Prinsloo (Source: Pinterest)
The couple is expecting their second child, his wife, announced on Instagram on September 13, 2017. His wife, Prinsloo shared a photo of herself in a bikini, exposing her growing baby bump, captioning it "ROUND 2…"
Have a look her Pregnant Stomach: Instagram
Adam Levine Net Worth
Levine has an estimated net worth of $60 million (as of February 2017). He earns $6 million per season of "The Voice". He also works on several philanthropy projects, including raising awareness for ADHD, testicular cancer, and LGBT right. Levine was the most paid celebrity in 2015 according to the Forbes. Again in 2016, he was the highest-paid singer, with an estimated $76 million in earnings. He has pulled in almost $26 million for his share of the Maroon 5 concert.
.
Save
Save
Save
Save
Others