Isabela Moner is an American accomplished actress, best known for playing the lead role as CJ Martin on the Nickelodeon TV "100 Things to Do Before High School." She has also played Jenny alongside J.K. Simmons in "Growing up Fisher"; and will play Izabella in "Transformers: The Last Knight" (2017) and voice Heather in "The Nut Job 2: Nutty by Nature," (2017) both in post-production.
Early Life
Isabela Moner was born on July 10, 2001, in Cleveland, Ohio, US. She is the middle of three children of Katherine, who was born in Lima, Peru, and Patrick Moner, a firefighter originally from Louisiana. She has two siblings, both brother, Gyovanni, and Jared. Moner has expressed that she considers herself as more Peruvian than American.
Young Isabela Moner as a Kid
Source: Pinterest
Growing up in the West Park neighborhood of Cleveland, Isabela attended Ohio Virtual Academy. In 2017, she entered college at the age of 15, in a thought of pursuing her dream of becoming an actress, and at the same time, finish all her schoolwork and get good grades.
Career
Moner started acting since the age of 7 and made her Broadway debut in in the revival of "Evita," in which she sang in Spanish alongside Ricky Martin and demonstrated her Latino heritage, at the age of 10.
Moner began portraying CJ Martin, the lead part on the Nickelodeon TV series "100 Things to Do Before High School" since 2014. The same year, she had a recurring role as Jenny in "Growing Up Fisher" and has done a voice work for Kate in "Dora and Friends: Into the City (2014-Present)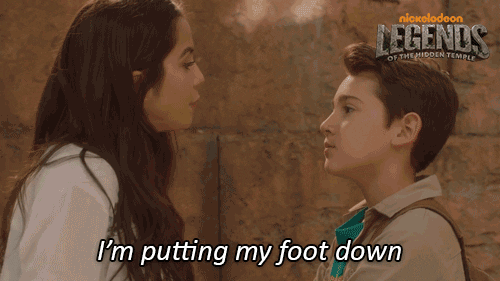 In 2015, Moner played Lori Collins in the Nickelodeon Original Movie, "Splitting Adam." In 2016, she won a role as Sadie, one of the main parts, in Nickelodeon Original Movie, "Legends of the Hidden Temple." In May 2016, Moner was cast in the up and coming film "Transformers: The Last Knight" which will be released in the fall of 2017. She also has a voice part in the Open Road Films, "The Nut Job 2: Nutty by Nature" which is about to be released in May 2017.
In March 2017, Isabela was named the Rising Star of the Year by CinemaCon, which was held in Las Vegas, Nevada.
Personal Life: Boyfriend, Net Worth
In 2016, Isabela Moner and her "Splitting Adam," co-star, Jace Norman were in a relationship. However, the cute couple reportedly broke up a few months later after they went public in April 2016. Jace and Isabela were a friend first and has been seen together from red carpets and birthday dinners, to set visits and beach trips. Although the adorable couple has ended their romantic relationship, Isabela and Jace still remain to be good pals.
Isabela Moner and her ex-boyfriend, Jace Norman in 2016
Source: Instagram
Moner is an artistic girl, known all through the school for her clear creative ability. She is a voracious reader and enjoys writing plays for the neighborhood kids. Isabela has an alternate sort of fashion sense and loves dressing up in outfits enlivened by a story she's reading or writing. As of 2017, she has an estimated net worth of $1 million dollars, which is believed to be rising for her upcoming film.
Isabela Moner at the 2017 Nicelodeon Kids Choice Awards with her new short hair
Source: Instagram/Isabela Moner
Wigs for Kids
In January 2017, Isabela Moner donated her hair to "Wigs for Kids" that help in providing Hair Replacement Systems and support for children who have lost their hair due to chemotherapy, radiation therapy, Alopecia, Trichotillomania, burns and other medical issues at no cost to children or their families.
Moner still lives with her family in Cleveland, but because of her acting jobs that keep coming her way, she is splitting her time among New York, Los Angeles, and Cleveland.
Others