Quick Facts Angela Yee
Angela Yee is a well-known name in the radio industry, who is widely recognized for the co-hosting "The Breakfast Club". The show airs from 6 am to 10 am on 'Power 105.1.' Previously she served as the host of "Lip Service," and "The Morning After."
Angela Yee Early Life & Education
Born as Angela Yee, she was born on January 3, 1976, in the state of New York in the United States. She is of Chinese descent from her father side. Angela Yee spent most of her childhood days in her home state. Although she was born in New York, she spent the latter half of her teenage period in New Jersey.
During her childhood with her father: Instagram
Regarding her education, she went to some middle school and High School. Then, she went to attend the Wesleyan University graduated from there in English.
Angela Yee Career
Angela Yee began her career working in music and marketing field. She did an internship at Wu-Tang Management and assisted the CEO. Then, she became a part of the clothing company "Shady Limited", where she worked there for a short time.
Source: Twitter
Later, she joined Sirius Satellite Radio. She received the opportunity to host 'Lip Service' and 'The Morning' with Angela Yee. It was at the Eminem's radio station, 'Shade 45.' Moreover, she also served as co-host of other shows. As well as, Angela Yee joined Power 105.1 radio in 2010. Since then she is the host of "The Breakfast Club" at Power 105.1.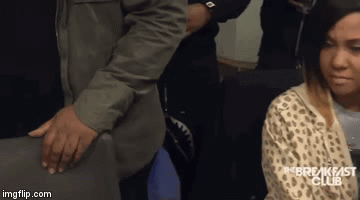 On Jul 26, 2017, she has an interview with Bernice Burgos, who appeared on the show" The Breakfast Club" to discuss her upcoming projects including a potential workout video with Planet Fitness.
But things hit a bitter tone when she asked Bernice about her relationship with T.I. after Bernice insisted that her relationship with self-proclaimed King of the South was idealistic and that she disliked hitting back at Tiny publicly on social media over the hype of drama.
Source: Youtube
Moreover, Bernice addressed Angela over a comment she felt was degrading towards her and others. Although Burgos was off with her thoughts on the conversation between Angela and Anthony. Angela held her politely letting her know she was mistaken.
Besides that, Angela Yee also appeared on TV. She worked as the correspondent for "Sucker Free" which is aired on MTV2. Furthermore, she is also a producer and an actress. Some of her TV projects are "The Real", and "The Sprite Corner: Freestyle Friday."Angela Yee was also featured in The Gossip Game that was a VH1 reality show.
Angela Yee Personal Life
Yee has currently reached 41 years old and is unmarried till date. Her amazing looks and skills have been attracting a lot of peoples attention and her fans are very curious to know about her personal life whether she is dating anyone or not.
Source: Twitter
Working in the media field, Angela Yee always stays away from the limelight when it comes to her personal life. As a result, she grasps her private matters behind the shades. But back in the past, Gucci Mane claimed to have an affair with her. However, she refused this alleged affair. Similarly, Angela Yee was rumored to be dating rapper, Vado in 2012.
Angela Yee Net Worth
Angela Yee is earning a notable amount of salary from her radio shows. Her salary is around $ 600,000 per year and her estimated net worth is around $ 2 million.
Being a media personality, she has a huge fan following on social networking sites. Angela Yee has more than 964,000 followers on Instagram and 753,000 on Twitter. Similarly, she has more than 2 million followers on Facebook.
Others