Facts of Anna Gunn Biography
| | |
| --- | --- |
| Occupation | Actress |
| Networth | $5 million |
| Ethnicity | English, German, Polish, Slovak, distant Irish |
| Nationality | American |
| Religion | Christian |
| Spouse | Alastair Duncan (1990- 2009) |
| Education | Santa Fe Preparatory School Northwestern University |
| Place of birth | Santa Fe, New Mexico |
Primetime Emmy Awards winner Anna Gunn is one of the renowned actress, known for playing Skyler White on the AMC drama series "Breaking Bad". She is also known for her roles as ADA Jean Ward on The Practice and Martha Bullock on Deadwood.
Early Life & Education
Anna Gunn was born on August 11, 1968, in Santa Fe, New Mexico. She is the daughter of Sharon Anna Kathryn Gunn, an interior designer, and Clemens Earl Gunn, Jr., a real estate. She attended Santa Fe Preparatory School and graduated from there in 1986.
Following her time in School, she noted acting in a drama classes and was lucky to study with two redoubtable teachers from the Actor's Studio as a teenager. She continued her training and education at Northwestern University's notable theater department, gaining a coveted scholarship award in her junior year.
During her time at Northwestern, Anna moved to study at the British American Drama Academy and got the fabulous chance to play in the school's final project at the famed Royal Court Theatre in London. She soon proved her name as a stage actress in Chicago, starting with a role in the critically-acclaimed production of The Beggar's Opera, which she received right after graduation.
She proceeded to perform on stage even as she moved to Los Angeles. Her other known shows include those for Hysteria, Measure for Measure, the world premiere of Uncommon Ground, and later, in the Broadway production of The Rehearsal.
Early Career
Gunn began her television career in 1992, playing a guest role in the science fiction series 'Quantum Leap'. The show was soon followed by a regular role in the short-lived comedy Down the Shore, which premiered the same year.
Anna Gunn has been active in the film industry since 1992, after she played Liz in an episode of Sci-Fi TV series "Quantum Leap"
Source: YouTube/Dodoodad
She landed a   recurring role on legal drama series "The Practice" from 1997–2002, where she played the role of assistant district attorney Jean Ward. She received her first regular television drama "Deadwood" in 2005. In the series, she played Martha Bullock, the wife and former sister-in-law of Seth Bullock (Timothy Olyphant).
Breaking Bad
Three years later, she gained her second regular television role, in  Vince Gilligan's crime drama series "Breaking Bad", where she played Skyler White, the wife of Walter (Bryan Cranston).  For her role, Anna was awarded the twice  Primetime Emmy Award for Outstanding Supporting Actress in a Drama Series. The show basically displayed on the AMC network for 5 seasons, from January 20, 2008, to September 29, 2013. The series draws the story of  (Bryan Cranston), Walter White, a struggling high school chemistry teacher diagnosed with inoperable lung cancer.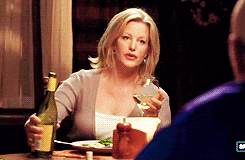 Anna Gunn as Skyler White in "Breaking Bad"
Her television credits also include starring roles in several made for TV movies and major guest starring appearances on such shows as Seinfeld (1993), Missing Persons(1994), Chicago Hope(1996), Sleepwalkers (1997) ER (1999), Bull(2000), The Guardian(2001), Yes, Dear(2002), Miss Match (2003), Six Feet Under(2004),  Boston Legal (2007) and much more.
Film Career
She starred alongside Haley Joel Osment in the 2012 comedy film "Sassy Pants", which was directed by  Coley Sohn. Her other film credits includes Indecency (1992), Junior (1994), Without Evidence (1995), Enemy of the State  (1998), Lost Souls (2000), Nobody's Baby (2001), Treading Water (2002), Twelve Mile Road (2003), Red State (2011), Sully (2016).
Personal Life: Married, Husband, Son
In 1990, Anna married Alastair Duncan, a Scottish actor and a renowned real estate broker. She announced her engagement after her graduation and finally married in 1990. As a loving spouse, they welcomed two daughters named Eila Rose and Emma born in 2001 and 2006 respectively. However, the couple's marriage life became unsuccess after Gunn's husband Alastair Duncan filed for divorce in 2008. The marriage officially ended a year later.
Anna Gunn and her estranged husband Alastair Duncan at the premiere of "Deadwood"Source: GettyImages
Child Support Dispute
The former couple, Anna Gunn and Alastair Duncan has 2 kids, Duncan got child support for a short time after the divorce. He then agreed with he court to stop paying child support. But then things turn around in May 2014, when Breaking Bad star Anna Gunn's estranged husband Duncan reportedly asked for child support from her, despite previously agreeing she could stop paying.
Reportedly, Duncan was looking for some money to go towards him looking after their two daughters, Eila Rose and Emma, after Anna made more than $1million from her acting career.
Net Worth
Anna Gunn is of German, English, Slovak, and Polish descent. She is earning a handsome salary from her career which adds up her current estimated net worth of $5 million. The 5' 10" versatile actress holds an American nationality and belongs to mixed ethnicity of English, German, Polish, Slovak, distant Irish. She is also active on social networking sites.
Updated On Thu Apr 06 2017 Published On Thu Apr 06 2017 By rajan