Aaron Paul is an actor, famous for playing Jesse Pinkman on the Emmy Award-winning television drama series "Breaking Bad". He has also made his appearances in many television series and music videos and has been active in the film industry since 1889-present.
Early Life & Education
Aaron Paul was born on August 27, 1979, in Emmett, Idaho. He is the son of Robert Sturtevant, a retired Baptist minister and Darla Sturtevant. He comes from a joined family and has four older siblings. As a child, he participated in church plays. Later, when he was in eighth grade, he attended in the theater department of his school and decided to continue an acting career.
Baby Aaron Paul
Source: Instagram/Aaron Paul
In 1998, he graduated from Centennial High School in Boise, Idaho. Following his graduation, he dreamt about moving to Los Angeles and worked on five jobs together to raise money. After graduating, he went to Los Angeles along with his mother in his '82 Toyota Corolla, with the $6,000 he had saved.
Career
Aaron Paul strived for about a decade after moving to LA. After finishing runner-up in a competition for the International Modeling and Talent Association. He signed with a talent scout in 1996.  That time, he also acted as an usher at Universal Studios Movie Theater in Hollywood.
Before appearing in small roles in the television movies, he worked a number of commercials for Corn Pops, Vanilla Coke, and Juicy Fruit. In 2000, he competed in the television competition, 'The Price is Right', as a contestant. In 1999, he began to appear on TV  series 'Beverly Hills, 90210'.  Then,  he did short roles in many other TV shows like 'Melrose Place (1999)', 'The X-Files (1999)', 'Judging Amy (2001–2002), 'CSI: Miami (2002)' and 'Point Pleasant (2005).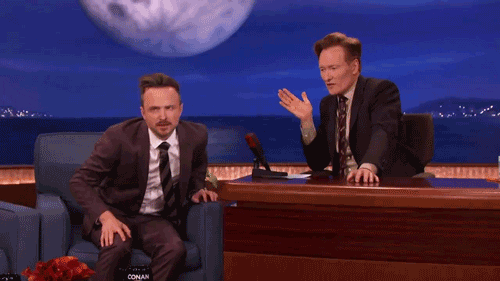 Aaron Paul waving hand to the Audience on The Tonight Show with Conan O'Brien
He maintained to appear in commercials and featured on two music videos for Korn's song. In 2002, he appeared music video 'Thoughtless and the Everlast song 'White Trash Beautiful' in 2003. He also did short roles in a number of feature films,  such as  'K-Pax' (2001),  'Whatever It Takes' (2000), 'Mission: Impossible III' (2006). 'Choking Man' (2006) and 'The Last House on the Left' (2009).
His big break came when he was cast in a recurring role in the HBO drama series 'Big Love' in 2007. He played Scott Quittman, the husband of Sarah Hendrickson, played by Amanda Seyfried. He was still paid as a day-player but rose to get work regularly.
Breaking Bad
In 2008, While he was still working on 'Big Love', he received the role of a lifetime when he was cast as Jesse Pinkman on the AMC series "Breaking Bad". After auditioning, he had his suspicions whether he would get the role and whether the show will go on air at all. Furthermore, his character was guessed to die during the first season. However, once it began to air, Paul won over everybody with his performance and became a central cast member of the show.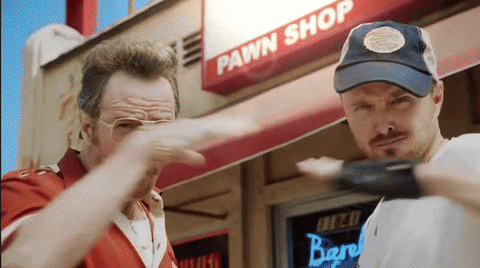 Walter White (played by Bryan Cranston), and Jesse Pinkman (played by Aaron Paul) from "Breaking Bad"
He appears as the moral compass for the show, which represents the dark sides of drug addiction, rather than praising it. The show has been named one of the greatest television shows of all time by many critics, with ratings skyrocketing every season till it led 99 out of 100 in the final season. During the five-year run of the series, Paul has seized a collection of prestigious awards, including three Emmys, for his role of Jesse Pinkman. He won thePrimetime Emmy Award in the category of Outstanding Supporting Actor in a Drama Series' in 2010, 2012 and 2014, enhancing the only actor to win it three times.
Smashed
After his breakthrough on television, he went back to the big screen and played in the film 'Smashed' in 2012, playing Charlie Hannah as an alcoholic. Paul made by doing as his character did drinking a lot. Paul told Uinterview, "I drank a lot more than I ever drank in my life,"  "You know, I never went to college so this was kind of my college years all crammed into a couple weeks of preparation. But yeah, I drank a lot and I filmed myself drinking and I watched a lot of people on YouTube wasted. I would just type in 'people wasted' and you could find the most incredible YouTube videos. It's very helpful."
In 2014, he performed in the movie 'Need for Speed' as a vengeful street racer recently released from prison. The same year, he led alongside Christian Bale in Ridley Scott's biblical epic 'Exodus: Gods and Kings'.
In 2016, he appeared in the crime thriller 'Triple 9', did voice acting for the protagonist, Nyx Ulric, in 'Kingsglaive: Final Fantasy XV', and starred in a bunch of other movie and television series. He is currently a part of the Hulu series 'The Path'.
Aaron Paul as Eddie in "The Path"
Personal Life  & Net Worth
On May 26, 2013, Aaron Paul married to Lauren Parsekian in Malibu, California. The couple first met in 2010 at the Coachella Music Festival in Indio, California, and engaged on  January 1, 2012, in Paris.Paul previously dated to  Samaire Armstrong in 2001, Tamara Feldman from 2003 to 2008, and Jessica Lowndes from 2009 to 2010.
Aaron Paul & Lauren Parsekian's Wedding Photo
Source: Pinterest
He holds an American nationality and belongs to a mixed ethnicity of English, German, and Scottish. Paul earns a handsome salary from his acting career which adds up his current net worth of $16 million. The  5' 8" versatile actor is active on social networking sites like Facebook, Twitter, and Instagram.
Save
Save
Others