Niki Taylor is an American model, who began her modeling career, since the age of 13. She is one the young model to appear on the cover of leading fashion magazine Vogue at 15. Being a successful supermodel of the 1990s, Taylor is known in particular for her fresh, low-glamour beauty.
Early Life and Education
Niki Taylor was born on March 5, 1975, in Fort Lauderdale, Florida and was raised in  Pembroke Pines, Florida. Taylor is the middle of three daughters of Ken Taylor and Barbara. Her father, Ken, was a highway patrol lieutenant and a photographer whereas her mother, Barbara was a former real estate agent. Niki has one elder sister, Joelle, and had a younger sister, Krissy (1978–1995), who was also a model. Krissy, who had appeared on the cover of Seventeen with her sister Niki, died of acute asthma attack complicated bu sudden cardiac arrhythmia. Today, Taylor's mother, Babara is involved with the Cardiac Arrhythmias Research and Education (CARE) Foundation.
Niki Taylor attended Cooper City High School, in Cooper City, Florida
Modeling Career
Taylor signed with Irene Marie Models in South Florida when she was 13. She won a Fresh Faces contest in New York and a $500,000 modeling contract. At age 14, she appeared on the cover of the magazine, Seventeen in August 1989. In 1991, Taylor was named one of People magazine's 50 Most Beautiful People, wearing a bright one-piece bathing suit on the beach. Some of Taylor other ads campaign include Liz Claiborne, Nokia, Ellen Tracy, L'Oreal, Gap, Lee Jeans, Rampage clothes, and Pantene.
Young Niki Taylor in the 90'S
Source: Pinterest
Taylor's parents were aware of the dangers of their daughter travel alone on modeling jobs, so they quit their jobs and took turns overseeing her. When they couldn't travel, a relative or individual from the administration would go with her. By then they had hired an agent, lawyers, and a marketing expert for Niki and had shaped a company to invest her financially.
Social faultfinders moaned about the utilization of such young models for adult magazines, but Taylor disclosed to Barbara Sgroi of Cosmopolitan, "Modeling came naturally to me — I was just a normal kid who'd fly to Paris or New York City for the shows, then go back to school as if it were what everyone did." Taylor signed a multi-million dollar cosmetics contract with L'Oreal at 16 and later with Cover Girl. Taylor was the youngest face to ever featured on the cover of Vogue and earned her first million by age 16.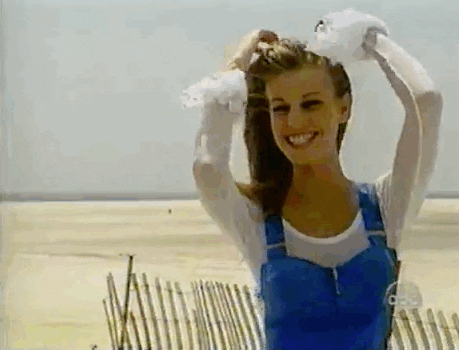 The Beach Queen, Niki Taylor
In 1992, Taylor was a guest Mouseketeer on "The All-New Mickey Mouse Club (MMC), in season 5, in 1 episode. In May 1996, Taylor appeared on the cover of American women's fashion and also on fitness magazines in the same month. In 1997 and 1998 she appeared in the editions of the Sports Illustrated Swimsuit Issue and was the cover model of the 1998 Sports Illustrated swimsuit calendar.
Other Ventures
Besides modeling, Taylor was once served as an interviewer for an episode of the syndicated show "Lifestyles of the Rich and Famous." She once covered NBC events and guest-hosted MTV's "Fashionably Loud." Taylor launched a clothing store, "Abbie and Jesse's," in Franklin, Tennessee, with her manager and a close friend Lou Taylor in July 2005.
In 2005, she launched her first fragrance, "Begin by Niki Taylor." She likewise established the Begin Foundation for the advancement of women in entrepreneurship. In 2008, Taylor and model Tyson Beckford co-hosted the new first season of Bravo series Make Me a Supermodel.
On 6 March 2011, Taylor participated on The Celebrity Apprentice fourth season. In the first round, Taylor was considered the star performer by her team; and was even rewarded $35,000 for her charity, American Red Cross,  due to the efforts she made. On March 20, she became the third contestant to be expelled. Donald Trump commented how he had a lot of respect for Taylor to take responsibility for the misfortune, however despite everything he let go her.
Car Accident
Taylor faced critical car accident in Atlanta, Georgia on April 30, 2001. Her then boyfriend Chad Renegar, drove the care when he was attempting to answer his cell phone and lost control and smashed into a utility pole. Luckily, Taylor wore an automatic shoulder belt as a result she was not thrown out of the vehicle.
Niki Taylor bedridden at Grady Memorial Hospital in Atlanta (Source: DailyMail)
However, Taylor suffered serious internal injuries, including a collapsed lung and liver damage, and two steel rods had to be implanted in her back to hold her spine together. The accident left her unconscious and in a coma for six weeks and then bedridden for an additional month. She was treated with approximately 56 operations and substantial physical therapy at Grady Memorial Hospital in Atlanta.
Personal Life: Married, Divorce, Children, Net Worth
Soon after graduating high school in the spring of 1993, Taylor met Matt Martinez during a coin-toss at an Arena football game in Miami. In January 1994, they eloped to Las Vegas. On July 19, 1994, a 4-months-pregnant Taylor married Martinez in McCaammon, Idaho. In December 1994, couples have twin sons, Jake and Hunter, and in less than two years later due to some misunderstanding they divorced.
In October 2006, after just three dates Taylor became engaged to NASCAR driver Burney Lamar. They met at an autograph session in January 2006. Taylor and Lamar tied the knot on December 27, 2006, at the Grande Colonial Hotel in La Jolla. The couple asked for donations instead of gifts to Victory Junction Gang Camp, a camp for chronically ill children in North Carolina.
Niki Taylor's Growing Family
Source: NikiTaylor
The couples have two children, daughter Ciel Taylor Lamar, who was born one day before Taylor's 34th birthday on March 4, 2009; and son Rex Harrison Lamar, born on November 16, 2011. Taylor lives with her husband, daughter and three sons in a French colonial house on 7 acres (28,000m.sq.) in Brentwood, Tennessee.
Taylor has an estimated net worth of $18 million. Taylor brought a house in Brentwood, TN estate around $1 million and sold it nearly for the same amount. She owns 3 more houses in the Nashville area, the house is 6 acres having a number of horses.
Save
Save
Save
Save
Save
Others