Briana Evigan is an American actress and dancer, who started dancing at the age of 9 and is still dancing as a part of her career today. As an actress, Evigan is known for her role as Andie West in the "Step Up series" and as Cassidy Tappan in "Sorority Row". She has been noted for a number of horror movies like "Burning Bright", "Mother's Day", "Mine Games", and the second season of "From Dusk Till Dawn".
Early Life and Education
Briana Evigan was born on October 23, 1986, in Los Angeles, California. She is the daughter of Greg Evigan, an American actor and of Pamela C. Serpa, a dancer, model and actress. Evigan is the youngest of three siblings with brother Jason who is an American songwriter, music producer and multi-instrumentalist and sister Vanessa Lee who is also an American actress.
Much like "Scream" Queen legend Danielle Harris, Briana begins her acting career in a horror flick! from the age of 10 (Source: MonsterZero)
Evigan undertook a communication degree at Los Angeles Valley College located in the Valley Glen district of Los Angeles, California in the east-central San Fernando Valley.
Career
Evigan, a professional dancer has appeared in the music videos for Linkin Park, Flo Rida, T-Pain, and Enrique Iglesias. She has some small roles in television series and films such as Bottom's Up, Something Sweat and Fear Itself. In 2008, she won the breakout role in the sequel to the 2006 dance drama Step Up, Step Up 2: The Streets.
In 2009, she starred in the movie "S. Darko" by Chris Fisher. In August 2008, Summit Entertainment announced Evigan has signed the central character Cassidy Tappan in the remake of the low-budget horror film "Sorority Row". On September11, 2009 "Sorority Row" was released and debuted at No. 6 at the box office and earned worldwide $26,735,797. In February 2009, she announced that she has signed on for another remake of the film "Mother's Day," directed by Darren Lynn Bousman. The film suffered numerous push backs and was finally released on May 8, 2012, on DVD and Blu-ray.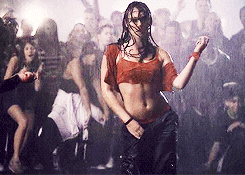 Briana Evigan (Andie West) Sexy Dance Moves from Step Up 2: The Street
In 2014, she reprised her role as Andie West in the fifth installment of the Step Up series, Step Up: All In. In 2015, she announced via Twitter that she would be playing, alongside Danny Trejo in the second season of the Action-Vampire TV series From Dusk Till Dawn.
Personal Life and Net worth
In 2010, Briana Evigan was in a relationship with Patrick John Flueger, an American actor. The former couple broke up in 2013 for some unknown reason. Before Flueger, she was engaged to actor, dancer, and choreographer Robert Hoffman for a year. Presently, Evigan who was in an open relationship with Robert Hoffman and Patrick John Flueger is currently single.
Briana Evigan and ex-boyfriend, Robert Hoffman
Source: Zimbio
Having involved in the film industry since 1996, Briana Evigan has an estimated net worth of $8 million dollars. To be more precise, in 2016 she has accumulated $969,697 salary annually.
Save
Others