Carrie Fisher was an American actress, writer, as well as a humorist. Fisher is better known for her role as Princess Leia in the Star Wars films for which, she was nominated for three Saturn Awards. Fisher wrote several semi-autobiographical novels including Postcards from the Edge.
She was married to Paul Simon and was also engaged to Dan Aykroyd. On December 27, 2016, Fisher died due to sudden cardiac death.
Carrie Fisher Early life and Education
Carrie Fisher was born on October 21, 1956, in Burbank, California, United States. Her father Eddie Fisher was a singer and mother Debbie Reynolds was an actress. Fisher grew up along with her younger brother Todd Fisher. At the age of two in 1959, her parents got divorced.
After that, her father married his third wife, an actress Connie Stevens. Fisher also has two half-sisters Joely Fisher and Tricia Leigh Fisher. Likewise, in 1960, her mother married Harry Karl but they divorced in 1973 when Fisher was 17 years old.
Carrie Fisher, Source: pmcdeadline2
Fisher spent her childhood by reading the classic literature and writing poetry. Until the age of 15, Fisher attended the Beverly Hills High School. She also starred as a debutante and singer in Broadway revival Irene (1973) along with her mother. But Fisher dropped her education because the Broadway interfered with her education.
Later, Fisher attended the Central School of Speech and Drama in London for 18 months. Fisher further joined the Sarah Lawrence College for her higher studies but she left without graduating.
Carrie Fisher Career
In 1969, Carrie Fisher made her acting debut through the television series Debbie Reynolds and the Sound of Children as Girl Scout. Likewise, she also appeared in Come Back, Little Sheba and Ringo.
Youtube: Ringo
At the age of 18, Fisher made her movie debut through the Shampoo as Lorna Karpf. After that, Fisher starred as Princess Leia Organa in the movie Star Wars along with Mark Hamill and Harrison Ford which helped her earn a wide recognization.
Twitter: Star Wars
40 years ago in theaters not so far, far away…. #StarWars40th pic.twitter.com/6rpMMegQUY

— Star Wars (@starwars) May 25, 2017
Moreover, Fisher also made her supporting roles in the movies like The Blues Brothers and When Harry Met Sally and also voiced Peter Griffin's boss Angela in the series Family Guy. Similarly, she also co-wrote and co-produced the TV comedy film These Old Broads in 2001.
Youtube: The Blues Brothers
Along with Peter Mayhew, Anthony Daniels, and Kenny Baker Fisher appeared in the sequel Star Wars: The Force Awakens (2015) for which, she was nominated for the 2016 Saturn Award.
Furthermore, before her death, she also completed filming her role as Leia in Star Wars: The Last Jedi (2017). Well, Fisher starring movie Wonderwell will be released in 2018 which was filmed in 2016 in Italy.
Twitter: Star Wars: The Last Jedi
.@StarWars: #TheLastJedi stars @JohnBoyega, Oscar Isaac, Daisy Ridley, Adam Driver, @andyserkis, Kelly Marie Tran, @LauraDern, & Domhnall Gleeson explain their love for @rianjohnson and what sets him apart from other directors. pic.twitter.com/SANEpj9shi

— IMDb (@IMDb) December 29, 2017
In the same way, Fisher also appeared as Cat in the television series Girlfriends' Guide to Divorce from 2014–2016. Furthermore, her recent television series include Catastrophe in which, she played the role of Mia Norris.
Carrie Fisher Personal life
In 1997, Carrie Fisher met a musician Paul Simon and while filming the Star Wars. The couple later married in August 1983 but separated within a year in July 1984. During their marriage, Fisher appeared in the music video of Simon's song "Rene and Georgette Magritte with Their Dog after the War".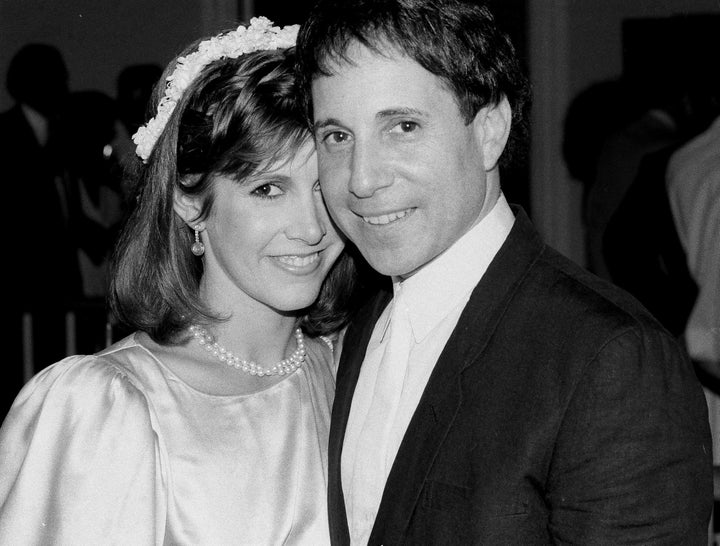 Carrie Fisher and Paul Simon, Source: Huffingtonpost
Besides this, Fisher was also engaged to Canadian actor and comedian Dan Aykroyd. Dan proposed Fisher during the set of The Blues Brothers. But the couple separated before their marriage.
Carrie Fisher and Dan Aykroyd, Source: peopledotcom
Moreover, Fisher also dated Creative Artists Agency principal and talent agent Bryan Lourd. The couple together welcomed their daughter Billie Lourd in 1992 who is also an actress.
Furthermore, Fisher was also rumored to be dating singer James Blunt. But she denied the rumor. In her 2016 autobiography, Fisher also wrote that she and her co-star Harrison Ford dated for three months during the set of Star Wars.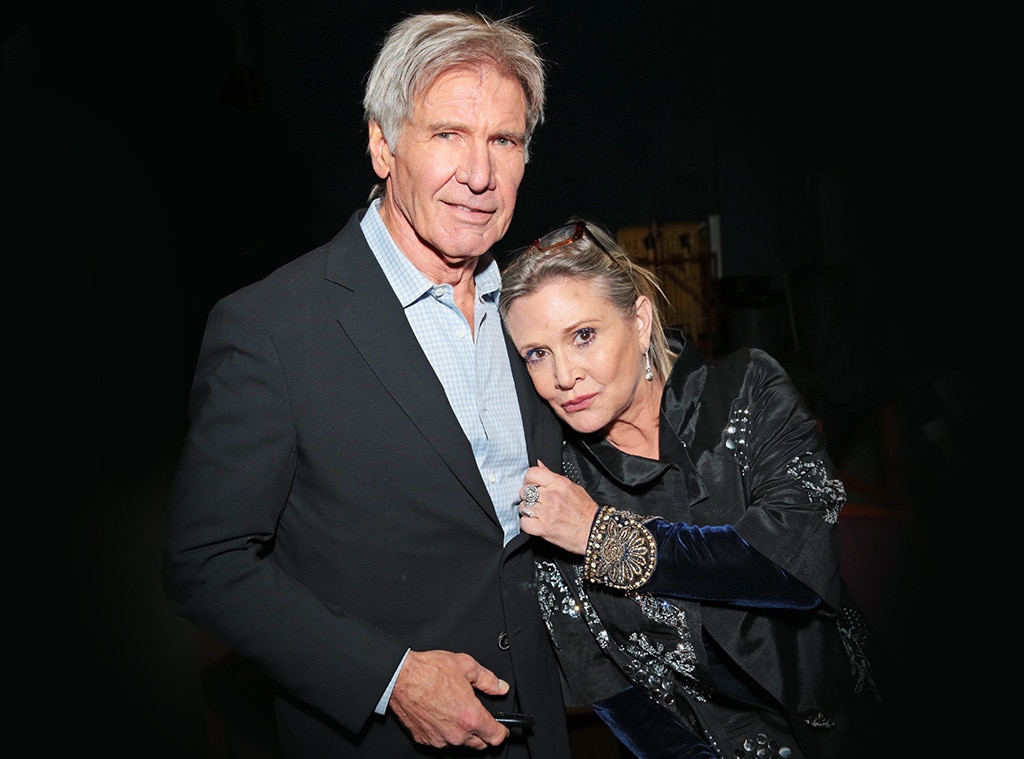 Carrie Fisher and Harrison Ford, Source: eonline
Besides this, Fisher mentioned about her bipolar disorder and her addictions to cocaine and prescription medication. The reason behind using the drugs was a form of self-medication.
Carrie Fisher Death
After completing European leg of her book tour, Carrie Fisher was on the fight back to Los Angeles from London on December 23, 2016. Fifteen minutes before the landing of the aircraft, Fisher suffered a medical emergency.
The passenger sitting next to Fisher reported that she stopped breathing, so another passenger performed CPR on Fisher before paramedics arrived. The flight crew informed the Emergency services in Los Angeles and soon after the landing, Fisher was taken to the Ronald Reagan UCLA Medical Center.
There, she was kept on the ventilator. But after four days of her treatment, Fisher passed away on December 27, 2016, at 8:55 a.m. (PST) at the age of 60. On January 9, 2017, the Los Angeles County Department of Public Health that the reason behind her death is "cardiac arrest/deferred".
The day after the death of Fisher, her mother Debbie Reynolds suffered a stroke at the home of son Todd. She was immediately admitted to the hospital, but Debbie died that afternoon.
Carrie Fisher Net worth
A renowned actress, Carie Fisher earned a decent amount of money from her acting career. Fisher starred in popular movies including Star Wars, Heartbreakers, Star Wars: The Last Jedi etc. She had also appeared in the television series like Ringo, Happily Ever After, Catastrophe etc.
As of 2017, the estimated net worth of Fisher was $25 million. Here are the payments that Fisher got for her roles in movies and television series;
$40,000 per episode of Family Guy (1998)
$145,000 for Scream 3 (2000),
$250,000 for Heartbreakers (2001).
$80,000 for Charlie's Angels: Full Throttle (2003)
$200,000 for Wonderland (2003)
$50,000 for Stateside (2004).
$65,000 for Undiscovered (2005)
$650,000 for The Women (2008)
$80,000 per episode of Catastrophe (2015)
$1,500,000 for Star Wars: Episode VII – The Force Awakens (2015).
Star Wars: Episode VIII – The Last Jedi (2017)
Youtube: Carrie Fisher's house
Likewise, she also had a house in Los Angeles. The house was bought for $13.75 million in 2004 and covers the area of 4,200-square-foot.
Instagram: Carrie Fisher's dogs
Fisher further had a dog of Pug breed which costs around $500 to $2000 and also of Shih Tzu breed that costs around $650.
Others