Courteney Cox is a Golden Derby TV Awards winning actress, producer, and director. She is widely known for her roles as Monica Geller on the TV series " Friends" and as Jules Cobb on ABC's "Cougar Town."
Having active since 1984, she has won several awards and nominations for her TV series and films. She is married, mother of one child as well as a divorced woman.
Courteney Cox Early Life & Education
Born as Courteney Bass Cox on 15th June 1964, to Courteney and Richard Lewis Cox in Birmingham, Alabama, United States. After her parent's separation, she went to live with her mother and step-father Hunter Copeland. She has three siblings named Virginia and Dorothy, and Richard, Jr.
Courteney Cox graduated from Mountain Brook High School. Then, she went to study for architecture at Mount Vernon College, but she dropped out to pursue a modeling career in New York City. During her childhood, she was an avid swimmer and tennis player.
Courteney Cox Career
In 1984, she settled herself a small part in one episode of "As the World Turns" playing a young débutante named Bunny. Then, she landed in the Bruce Springsteen video "Dancing in the Dark."
Then, she went to Los Angeles and landed the role of Lauren Miller—Michael J. Fox's girlfriend on the hit series "Family Ties" from (1987–89). Her roles in feature films began with Down Twisted (1986), with subsequent parts in films such as Ace Ventura: Pet Detective (1994), co-starring with Jim Carrey; Wes Craven's Scream and its sequel, Scream 2 (1996, 1998); and Commandments (1997).
Cox earned a Golden Globe nomination in 2010 for her role as a divorced 40-year-old in the television series Cougar Town, which debuted in 2009.
Friends
Cox's big break came when she was cast in the acclaimed television series "Friends" (1994-2004). She played Monica Geller, the mother hen of the group and a chef, known for her perfectionist, bossy, competitive, and obsessive-compulsive kind.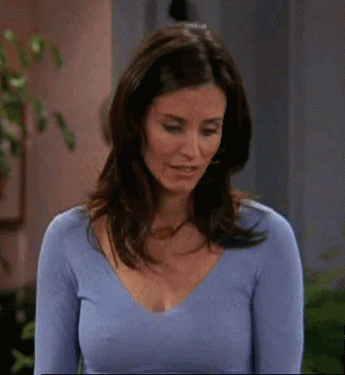 Monica is usually jokingly teased by the others for having been extremely overweight as a child, particularly by her brother Ross. Monica serves as a chef in various restaurants during the show.
Monica's first serious relationship is with long-time family friend Richard Burke, who is twenty-one years her senior. The couple maintains a healthy relationship for some time, till Richard reveals that he does not want to have children, much to Monica's dismay.
Youtube: Best of Monica Geller;
Monica and Chandler Bing later begin a relationship after paying a night with each other in London in the season four finale, leading to their marriage in season seven and adoption of twins at the end of the series.
She appeared with the stars Jennifer Aniston, Lisa Kudrow, Matt LeBlanc, Matthew Perry and David Schwimmer. The series made her an international superstar.
Courteney Cox Personal Life
She was married to David Arquette in 1999. The marriage took place at Grace Cathedral, followed by a party at a 1930s speakeasy-style club where the newlyweds and 250 guests drank Dom Perignon and dined on steak and lobster.
Cox wore a white Valentino dress. Several hundred frenzied fans stood outside the church waiting to catch a glimpse of the couple and their guests.
The couple met on the set of the 1996 horror comedy "Scream" and appeared together last year in the movie's sequel. He proposed her on a Florida beach. But their marriage did not work out and separated in 2010, but did not finalize their divorce until May 2013.
However, they have continued good friends and work well together to raise their daughter Coco Riley Arquette, was born on 13th June 2004, in a healthy environment.
Courteney Cox has no hard feelings about ex-husband David Arquette and, in fact, wishes nothing but happiness for the father of her child.
Courteney Cox came to media attention due to her relationship with Johnny McDaid in 2014. Soon the couple engaged after a few months later. Their wedding rumors began to buzz when they are planning a fall wedding. 'They just took a trip to London to meet with their wedding planner.
But sources claim that they split in the year 2015 because Courteney was unwilling to leave Los Angeles and he was homesick.
She also dated to Jason Statham (2016), Brian Van Holt (2012 – 2013), Adam Duritz (1997), Liev Schreiber (1996), Kevin Costner (1995), Michael Keaton (1989 – 1995), Paul Brown (1987 – 1989) and Ian Copeland (1984). Besides that, she was also rumored to be dating Josh Hopkins (2011).
Courteney Cox Net Worth
According to the Guinness Book of World Records (2005), Cox became the highest-paid TV actress of all time, with her US$1 million-per-episode paycheck for the final two seasons of Friends.
Her estimated net worth has $120 million. She gained her net worth through her work as an actress, producer, and director as well as for the company that she owned as entrepreneurs. To know about her, you can catch her Facebook Twitter and Instagram.
Others