People's Choice Awards winning actress, Kaley Cuoco is widely recognized for portraying the role of Penny in the television series, "
The Big Bang Theory."
Having active in the entrainment industry since 1992, she has appeared several films and TV series.
Early Life & Education
Kaley Christine Cuoco was born in Camarillo, California. She is the daughter of Layne Ann, a homemaker, and Gary Carmine Cuoco, a realtor. Her younger sister, Briana, competed on the fifth season of "The Voice." As a child, Cuoco was a regionally ranked amateur tennis player, since the age of three. To focus on her acting endeavors, she stopped playing at the age of 16 on 2002. She was home schooled on the set and earned her high school diploma at age 16. She did six Barbie commercials when she was younger.
Young Kaley Cuoco
Source: Pinterest
Career
Cuoco
began her acting career in Michael Pressman's thriller film
"Quicksand: No Escape
" playing Connie Reinhardt in 1992. Then, in 1994, she appeared in teen drama television series "
My So-Called Life"
where she played Young Angela Chase. Winnie Holzman created the series and produced by Edward Zwick and Marshall Herskovitz.
Kaley Cuoco on the set of My So-Called Life
Source: NewNowNextAfter appearing several TV series and films, Cuoco
landed a role Maureen McCormick in the biographical drama film
"Growing Up Brady"
in 2000. In which, she was nominated for YoungStar Award in the category for Best Young Actress in a Mini-Series/Made for TV Film. Matt Dorff wrote the film and directed by Richard A. Colla. In September 2002, Cuoco started starring as Bridget Hennessy on the ABC sitcom "
8 Simple Rules."
 In the film, she was the oldest child, despite Cuoco being six years younger than Amy Davidson, who acted as her younger sister. She made her notable performance in the series and nominated for Young Artist Awards, Teen Choice Awards, Teen Choice Awards, Young Artist Awards. She won Teen Choice Awards in the category of Choice TV Breakout Star: Female in 2003. However, ABC canceled the series on May 17, 2005, due to 
low ratings,
Kaley Cuoco, accepting the award for favorite comedic TV actress at the People's Choice Awards
Source: ZeeNews
The Big Bang Theory
Kaley 
Cuoco began starring in the CBS sitcom
"The Big Bang Theory
," in September 2007, playing Penny, a Cheesecake Factory employee and aspiring actress who lives across the hall from scientists Leonard Hofstadter and Sheldon Cooper. Chuck Lorre created the series and Bill Prady and directed by Mark Cendrowski. Cuoco
won Satellite Award, Critics' Choice Television Award, People's Choice Awards, People's Choice Awards. She was also ten times nominated for different categories in the series.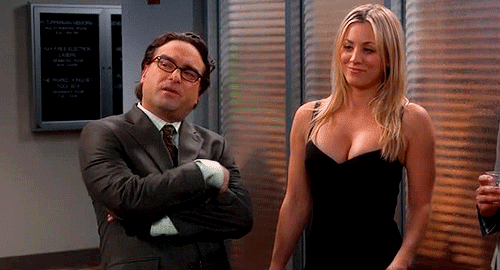 Other works
She has also appeared several TV series and films such as
Northern Exposure (
1994
), Ellen (
1996
), Picture Perfect (
1997
), Mr. Murder (
1998
), Can't Be Heaven (
2000
), Ladies Man (
2000- 2001
), A Merry Mickey Celebration (
2003
) Debating Robert Lee (
2004
), Lucky 13 (
2005
), Wasted(
2006
), Cougar Club(
2007
),
, Alvin and the Chipmunks: The Road Chip(
2015), 
Authors Anonymous (
2014
),
 Why Him? (
2016
), Comedy Bang! Bang! (
2016
), Handsome: A Netflix Mystery Movie
( 2017) and much more.
Personal Life
Kaley was in a relationship with an actor, Thad Luckinbill in 2002. Then, she began to Kevin Zegers in 2003, but the couple ended their relationship in 2004. From 2005- 2006, she dated Jaron Lowenstein, a singer. She also dated an actor, Al Santos around 2007 after which she started a romantic relationship with her co-star of "
The Big Bang Theory,"
Johnny Galecki. The couple dated secretly, during the time of the show when they were dating on-screen as well. They were together for two years from 2008 to 2010 after which they split up.

In 2011, 
Kaley 
Cuoco 
dated Christopher French, musician and after one year later they separated. She engaged to Josh Resnik, an addiction specialist from October 25, 2011. But the couple never ended up getting married and separated in March 2012. She likewise dated a singer, Bret Bollinger on 2012, which lasted only until 2013, and she dated Henry Cavill, an actor. Ryan Sweeting and Kaley Cuoco started dating around 2013. After two months of dating, the couple got engaged on September 20, 2013. She has a fake marriage with him on the Ellen Degeneres Show on November the same year. They officially got married on December 31, 2013, at they got a divorce on September 28, 2015.
Kaley Cuoco and her ex-husband, RYAN SWEETING
Source: PinterestThen, 
Kaley Cuoco 
briefly dated an actor, Paul Blackthorne in 2015. Currently, she is dating Karl Cooke, since 2016.
Personal Interest
Kaley Cuoco has a mix dog Petey, a German Shepherd named Duke and a Jack Russell Terrier named Raquel. She Resides in San Fernando Valley, California. 
Cuoco 
is a vegetarian. In her spare time, she loves listening to Josh Groban and Kelly Clarkson. She enjoys horseback riding, kickboxing, bowling and playing the drums. Horseback riding is her passion. She broke her leg after falling off her horse on September 13, 2010.
Net Worth
Kaley loves the fashion world and love clothes. She is a huge fan of Britney Spears and Taylor Swift. She was ranked #78 in FHM magazine's
"100 Sexiest Women in the World 2005
" special supplement and also ranked #13 on Maxim magazine's Hot 100 Women of 2011 list.
Kaley Cuoco Maxim Hot 100 Women of 2011 list
Source: Mankind UnpluggedKaley Cuoco ranked #57 in the 2011 FHM Australia list of "100 Sexiest Women in the World". She ranked #20 on Maxim magazine's Hot 100 Women of 2014 list. She openly admitted having breast implants and a nose job. Kaley Cuoco has maintained her career from her childhood and she earning the salary of $1,000,000 per episode. Her net worth is $45 million. The 5' 6" star has a seductive body measurement of -35-24-36 inches. She holds an American nationality and belongs to white ethnicity. Cuoco has a huge fan following on social networking sites like Twitter and Instagram.