Danielle Bregoli Biography
Teen sensational social media personality, Danielle Bregoli, is known for her appearance on the show "Dr. Phil," where she directed the words "cash me outside" at the audience, which sparked an internet outburst of memes using her image.
Early Life
Danielle Peskowitz Bregoli was born on March 26th, 2003 in Florida, United States. She is the daughter of Barbara Ann Peskowitz and Ira Peskowitz. She grew up in Florida, where she got herself in trouble with the law several times.
At the age of 6, her mother was diagnosed with breast cancer and was a supporter in helping her mother go through chemotherapy. Her estranged father, Ira Peskowitz is a Sheriff's deputy in Palm Beach County, Florida. Peskowitz has mentioned that he did not abandon her and has even created a GoFundMe campaign to "save" his daughter.
Born out of wedlock, Bregoli's parents were never married. Her father left them, but what happened after was a legal action over visiting and child support that would rage on for years. Ira does pay his monthly child help to Barbara Ann, and endeavors to stay in touch with Danielle, regularly by telephone.
Bregoli has one sibling.
As a kid, Bregoli is a poorly behaved child; she would steal money, credit cards and leave the house without informing anyone. Due to her rebellious nature, she did not have any close and good friends. She often gets into troubles with the Law many times, due to her rude behavior. Danielle spends four and a half months at a school and living program for troubled teens named Turn-About Ranch.
Rise to Mainstream
Danielle Bregoli was featured on the show "Dr. Phil" in September 2016. The show mainly centered on the relationship between parents and their mischievous, disobedient children.
After the episode had gone on air, she was not pleased with all as because she felt a lot of pieces were cut and hacked. She also alleged that the video was not good as it characterized too much falsehood, showcasing that both mother and daughter were totally opposite each other and hated each other.
Went Viral
After appearing Dr. Phil series, she created a 30-second clip with the Bregoli using the phrase "Cash Me Outside How Bah Dah," which was posted to Instagram's greatest portraits from Media Take Out, World Star Hip Hop, Hollywood Unlocked and Daquan.
The clip was distributed millions of times and became the most viewed video online in January 2017. Since then agents have been trying investments in big on this overnight star. But Bregoli has found the excellent manager who is helping her make thousands and cashing inside and outside social sites.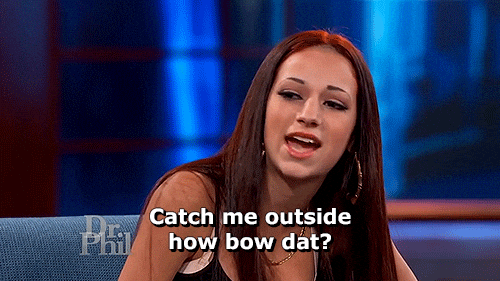 Other Works
She usually promotes various brands on social networks. Recently, through her Instagram account, she endorsed Fit Tea and Postmates. She has received four to five offers from huge production houses for various reality shows including few scripted reality shows.
Danielle Bregoli Fit Tea
Source: In Touch Weekly
Music Video
Danielle was also controversially starred in rapper Kodak Black's new video for his track "Everything 1K", where she has seen gleaming stacks of cash, lip-syncing, dancing and posing on and inside a white Rolls-Royce. However, the video was dropped just two days after the teenager criticized the passenger on an airplane.
Danielle Bregoli on Kodak Black music video – Everything 1K
Source: Pinterest
Danielle Bregoli was paid $40,000 for a three-minute video feature on Kodak Black's "Everything 1K". The video showcased Danielle's fame reaching 10 million views in 48 hours. Danielle is also charging nearly $5,000 per appearance. In January 2017, the t-shirts alone sold over 4,000 grossing nearly $20,000.
Controversies
In 2017, she was accused of doing weed profession. Sources revealed that Danielle was at a friend's house in Boynton Beach, Florida, hanging outside when her friend dragged out a joint. Danielle declares she was not spoiling, but cops rolled by, saw the girls and made their move.
She is also rumored to be doing plastic surgery. In an exclusive interview with Life & Style, Danielle discusses speculation that she underwent a boob job in recent months. "I never had plastic surgery and didn't think I ever would," she shares. "All I need is my nails done, and hair was done."
Recently, somebody targeted her of a death hoax and in response to that, Bregoli posted a video for her fans stating she is fine and alive and slammed the person who targeted her of a death hoax.
Personal Life
She is rumored to be dating 25-year-old rapper Young M.A. Her mother, Barbara and herself have been forbidden to fly via Spirit Airline Flights. The reason behind the banned was due to her mother an unusual behavior where she fought with a lady on the flight, that got heated up. The airline company banned all the three passengers.
Danielle Bregoli Fights Woman On Plane
Source:www.virtantiq.com
Danielle is fond of tattoos and has posted few pictures after getting her body tattooed on Instagram. She has a huge crush on a rapper, Kodak Black. She accepts that she is pretty violent. In 2017, she got an entirely new look with red colored hair.
Net Worth
She has a huge fan following on social sites. As of February 10, 2017, Danielle has 3.8 million followers on Instagram. The 5′ 3″ teen sensational star holds an American nationality and belongs to white ethnicity.
Danielle has an alluring body measurement of 32 -23-32 inches. She is one of the most talked teen sensational media personality on the Internet. She could join the high waves club by the end of 2017. Sources told TMZ that the redhead would be making $40,000 for an appearance at Miami's Rolling Loud music festival in May.
Danielle also started endorsing products such as Fit Tea and Postmates on Instagram, which can net a whopping $50,000 per post depending on some followers a celebrity has (she's got over eight million). And she has allegedly received at least four offers from production companies about a possible reality show, as well as a few for scripted series. Her estimated net worth has $200 Thousand.
Others