Matt Steffanina Biography
Matt Steffanina is a dancer, choreographer, entrepreneur and an executive producer of Dance Tutorials Live, well known for working as a teacher, choreographer and dancer on his two enormously popular YouTube channels "MattSteffanina" and "DanceTutorialsLIVE."
In November 2018, Steffanina signed a deal with Abrams Artists Agency for representation in every corner of his career.
Matt Steffanina Personal Life, Marital Status, & Wife
As of 2019, Matt Steffanina isn't married but is engaged to Dana Alexa, fellow dancer in 2012. The couple first met in a music video called "Ashes," dancing together in 2011 and dating for a year and were soon engaged.
Matt and his fiancée, a fellow dancer, Dana Alexa became the winner of the Season 28 of "The Amazing Race," the CBS reality show, where eleven teams formed of social media influencers face.
The couple won a $1 million prize. His fiance, Dana Alexa is a Dancer, choreographer, and model. She has performed on Bravo's Watch What Happens Live and The Real Housewives of New Jersey.

Source: YouTube
Matt Steffanina's Net Worth, Earnings, Contracts
The 5′ 11″ star, Matt Steffanina is one of the famous YouTubers. He manages several YouTube channels, such as MattSteffanina, MattSteffanina 2, and DanceTutorialsLIVE.
In November 2018, Steffanina signed a deal with Abrams Artists Agency for representation in every corner of his career.
The choreographer and dance instructor, whose videos have amassed 9.3 million YouTube subscribers and 1.7 billion lifetime views, will work with Abrams to branch out his career and brand positioning across all media. His will be the face of scripted and unscripted series, commercials, theater gigs and endorsements,
Steffanina surely earns a handsome salary from her career which adds up his current net worth of $4 million. He is active on social networking sites and has a huge fan following on his Instagram and Twitter account.
Matt Steffanina Early Life
Matt Steffanina was born on October 20, 1986, in Virginia. He grew up playing all types of sports. During his childhood, he had a keen interest in dancing. Steffanina started to teach himself 'how to dance' at the age of 13.
He was a competitive snowboarder and training on the trampolines for the next season, when he noticed some break-dancers, at the age of 17.

CAPTION: Matt Steffanina (Left) and his younger brother, Sam Steffanina (Right)
SOURCE: Twitter
Steffanina assumed it was the coolest thing ever, and along with his high school best friend, he started learning by himself. After learning himself around six years, Matt decided he wanted to move to LA and make it his career.
Matt Steffanina Career
Matt Steffanina made his first waves at the age of 18 for b-boying, a street dance forms which is popular across the United States. At the same time, he also joined in a local talent hunt competition at around.
Then, he emerged an interest in hip-hop and got the opportunity to guide the 'University of Virginia' dance crew, as a choreographer.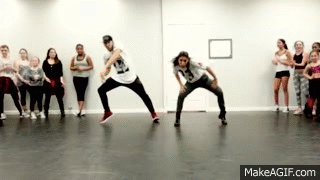 Matt Steffanina
Then, he moved to Los Angeles in 2010 to take his passion to the next level. His talent was noticed by the celebrities of 'tinsel town'.
Soon enough, he collaborated with talented artists such as Snoop Dogg, Chris Brown, Jermaine Jackson, Lil Wayne, and Busta Rhymes and Tyga for various gigs. He also appeared in acclaimed television shows, such as 'The Tonight Show' and 'So You Think You Can Dance.'
Pop Up: Bryan Tanaka Wiki
Matt Steffanina Dance Tutorials LIVE
Matt Steffanina began the YouTube channel 'Dance Tutorials LIVE,' in 2012, on which he has been posting videos of hip-hop dance lessons.
His YouTube channel has earned a lot of subscribers, and most of the videos shared have gained an unbelievably high number of views. Numerous aspiring dancers and fans of the hip-hop routine have adored Matt Steffanina for his high energy.
Also Read: How Much is Jason Derulo Worth?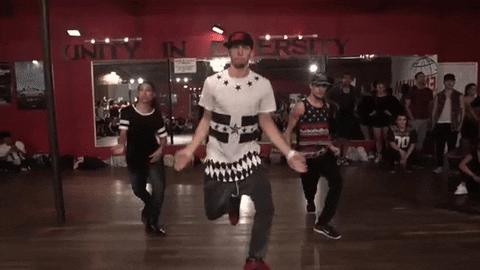 Matt Steffanina
He also started a channel named 'Matt Steffanina,' which is remarkably popular amongst dance boosters and talks volumes about his incredible choreography skills. Matt Steffanina also became of the contestants in the 28th season of the reality show "The Amazing Race."
Matt Steffanina's Other Works
Besides YouTube, he also designed along with Dana, promoted it on his official website, as well as from his online store. He also coaches at Millennium Dance Complex which is a dance school in LA, California.
Related: Kenneth San Jose Biography
He dedicated to teaching those willing to get on the floor how to dance like a pro. In his videos, he takes to progress from today's most popular songs and music videos and uses skill and knowledge to add his personal street styles, making the dances his own
Others