Monique Lhuillier Biography
Monique Lhuillier is a Filipino-American fashion designer and creative director. Lhuillier is widely recognized for her bridal, ready-to-wear and lifestyle brand. Furthermore, Lhuillier is internationally recognized as one of America's foremost designers.
Monique Lhuillier is already married to her husband and is a mother of her child.
Monique Lhuillier Early Life and Education
Monique Lhuillier was born on 15th September 1971, in Cebu, Philippines. Her father Michel J. Lhuillier was a French-born Filipino businessman and mother Amparito Llamas, a Filipina society figure, and former model.
Monique Lhuillier with her mother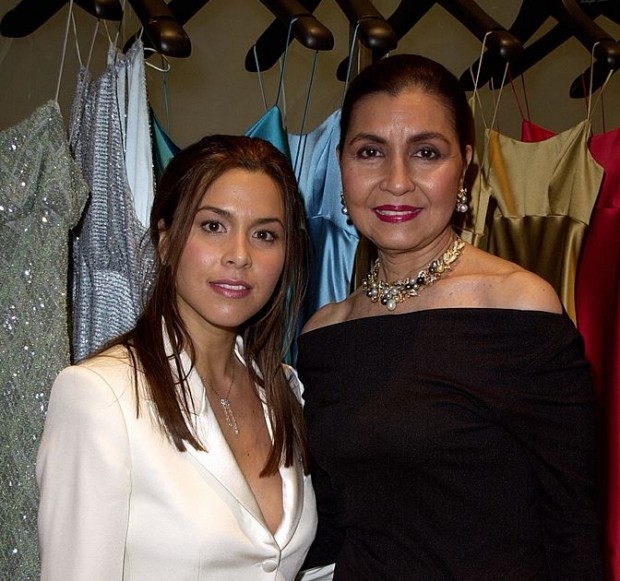 Lhuillier attended the Saint Theresa's College and later joined the Chateau Mont-Choisi finishing school in Lausanne, Switzerland. Well, she completed her graduation from the Fashion Institute of Design & Merchandising.
Monique Lhuillier Fashion Design Career
When Monique Lhuillier planned her wedding, Lhuillier didn't find any modern dress for her wedding. So, she implemented her fashion degree to create dresses for herself and to the other relatives and bridal party.
Instagram: Monique Lhuillier
After the marriage, Lhuillier got many business cards left for her which gave more motivation to her. So, Lhuillier realized that she could make a business out of her bridal designs. In 2001, Lhuillier opened her first retail store.
Youtube: Monique Lhuillier | Fall Winter 2016/2017
In 2004, Lhuillier designed wedding dresses for Britney Spears and Emmy Awards dresses for Jamie-Lynn DiScala and Allison Janney which gave her worldwide recognization. Later she opened her own "flagship" store in Los Angeles in 2007 and also opened a new branch in New York.
Twitter: Monique Lhuillier
Details ? #mlspring18 pic.twitter.com/GuZUEH02d4

— Monique Lhuillier (@M_Lhuillier) November 30, 2017
Now, her store includes the ready-to-wear, evening gowns, bridal, bridesmaids, linens etc. Moreover, in 2016, Lhuillier collaborated with Pottery Barn Kids and launched a line for babies and kids which includes over 120 items.
Monique Lhuillier Current activities
Lhuillier is actively working in the field of fashion designing. She launches new products for adults as well as for babies in her stores.
Monique Lhuillier Married, Dating, Husband, Affairs
The 46 years old, Monique Lhuillier is already married. While studying design at the Fashion Institute of Design & Merchandising (FIDM) in Los Angeles, Lhuillier met her husband Tom Bugbee. This couple got married in 1996.
Instagram: Monique Lhuillier and her family
They have a daughter Sophia and a son Jack. Besides this, there are no any records of her past relationships. They are successfully maintaining their career as well as family, so there are fewer chances of their divorce.
Monique Lhuillier Net Worth, Income, Earning, Salary
Being such a popular international fashion designer Monique Lhuillier earns a decent amount of money from his career. Moreover, she also adds money from her directing career. Lhuillier owns fashion stores in Los Angeles and New York and also has the online website.
Moreover, in 2016, she also launched a line for babies and kids in a collaboration with ottery Barn Kids. Allocating information from several sources as of 2018, it is found out that Monique Lhuillier current estimated net worth is around $12 million.
Others