Natalie Portman Biography
Natalie Portman is an actress, producer, and director, who has both American and Israeli citizenship. She began modeling at age of 11 and made her first film appearance in 1994, in action thriller "The Professional" opposite Jean Reno. Portman served as the youngest member of the 61st Annual Cannes Film Festival jury In May 2008 and directed a segment of New York, I Love You.
Background: Early Life and Education
Neta-Lee Hershlag was born on June 9, 1981, in Jerusalem, Israel to Avner Hershalg, an Israeli-born doctor, and Shelley Stevens, an American homemaker who works as Portman's agent. Her maternal grandparents were from Jewish families who moved to the United States from Austria and Russia. Portman and her family use to live in Washington. D.C., but relocated to Connecticut in 1988 and then moved to Jericho, New York, on Long Island, in 1990.
Young Natalie Portman
Source: Pinterest
While living in Washington, D.C. area, Portman attended Charles E. Smith Jewish Day School in Rockville, Maryland. Portman learned to speak Hebrew while living on Long Island and attended the Solomon Schechter Day School of Nassau Country in Jericho, New York.
She studied ballet and modern dance at the American Theater Dance Workshop in New Hyde Park, New York. Portman graduated with Bachelor of Arts degree in psychology from Harvard University in 2003. In 2004, Portman again returned to Israel and took graduate courses at the Hebrew University of Jerusalem.
Career
Portman started taking a dancing lesson from the age of four and performed in local troupes. A Revlon agent asked Portman to become a child model at the age of 10, but she turned down the offer to focus on acting. When she was at the age of 10, Portman auditioned for the 1992 off-Broadway show "Ruthless"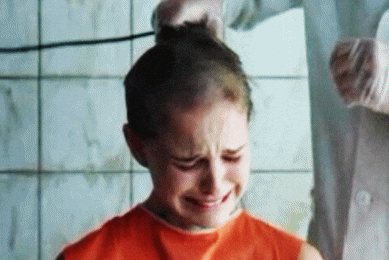 Natalie Portman won a Constellation Award for Best Female Performance and the Saturn Award for Best Actress for her starring role in the political thriller "V for Vendetta" in 2006
During the 1990s, Portman had played several film roles, including Heat, Everyone Says I Love You, and Mars Attacks.In 1997, Portman cast as Padme Amidala in the "Star Wars prequel trilogy". Along with additional production in London, Portman filmed "Star Wars: Episode II – Attack of the Clones" in Sydney. Portman opened in New York City's Public Theater production of Chekhov's The Seagull, directed by Mike Nichols in July 2001. In 2004 she appeared in the independent movies "Garden State" and "Closer".Garden State won the Best First Feature at the Independent Spirit Awards. In the movie closer, her performance as Alice earned her a Supporting Actress Golden Globe as well as a nomination for the Academy Award for Best Supporting Actress.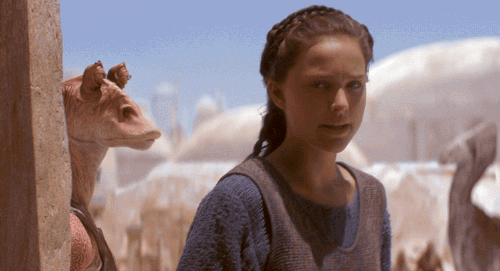 Natalie Portman as Padmé Amidala in Star Wars: Episode I – The Phantom Menace
Portman hosted comedy television show "Saturday Night Live" on March 4, 2006. In 2006, Portman filmed Wong Kar-wai's road movie "My Blueberry Nights". Portman served as the youngest member of the 61st Annual Cannes Film Festival jury, in May 2008. She starred opposite Tobey Maguire and Jake Gyllenhaal in the drama films in 2009, a remake of the 2004 Danish film of the same name. In 2011, she won the Oscar Award for Best Actress and the Screen Actors Guild Award for Outstanding performance by a Female Actor in a leading role. In 2016, Portman played the role in director Pablo Larrain's Jackie, a biographical drama about American First Lady Jacqueline Kennedy, following the death of her husband
Personal Life and Net Worth
In early 2007, Natalie Portman had a brief relationship with Devendra Banhart, an American folk singer. The couple ended their relationship in 2008. Portman started dating Benjamin Millepied in 2009, who was a ballet dancer. The couple met on the set of Black Swan while Millepied was the choreographer. The couple announced their engagement in 2010 and on June 14, 2011, she gave birth to their first child, Aleph Portman-Millepied. On August 4, 2012, Portman and Millepied married in the Jewish ceremony in Big Sur, California. According to People magazine, the wedding was attended by several celebrities including Ivanka Trump, Jared Kushner and Macaulay Culkin. Portman gave birth to second child, daughter Amalia, on February 22, 2017.
Natalie Portman and husband, Benjamin Millepied with their son, Aleph Portman-Millepied on a Family day out
Source: DailyMail
Moving toward her net worth, Natalie estimated worth is $54 million. One of her highest grossing Star Wars films earned $924.3 million worldwide during its initial run. Portman's accumulated earnings in the year 2013 tallies up to $14 million and in 2014 her accumulated earnings tallies $13 million.
Save
Save
Others