Richard Rawlings Biography
Richard Rawlings can be introduced as an American Entrepreneur, auto mechanic race car driver and media personality as well. Passionate about cars from an early age, Rawlings followed the footstep of his father and learned to built cars along with construction of cars. He bought his first car, a green "74 Mercury Comet" when he was only 14 years old. Rawling gains popularity from Discovery Channel's hit TV show Fast N' Loud.
Early life
Richard Rawling, a native of Fort Worth, Texas was born on March 30, 1969, in the United States. He joined Eastern High School for higher education. His father used to work two or three jobs at a time to fulfill his demand of buying toys (i.e, car or motorcycle.) Before the age of 21, Richard works as a firefighter, police officer, and even paramedic. He once said that he worked just to have his own cars. Later he decided to quit the work and begin running his own printing and advertising company in 1999.
Richard Rawlings as a high school senior in 1987
Source: Reddit
Career
Richard Rowlings did various work to feed his car habit. In the initial phase of establishment, he used to run printing and advertising company. In 2012, he engaged himself in Discovery Channel series, Fast N'Loud, which became widely successful. Later, he sold his printing and advertising company and funded the amount on his new venture, "Gas Monkey Garage ", famous rod shop which generated and shipped cars for people around the world. In March 2014, he branched out Gas Monkey Bar N Grill in Northwest Dallas.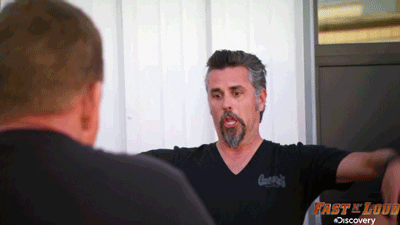 Richard Rawlings in Fast N' Loud
He later opened at Dallas-Fort Worth International Airport in March 2014. In one of his interview, Rawlings said that look forward to open a third Texas location outside of the Dallas-Fort Worth metropolitan area.
Youtube: Five facts of gas monkey garage "Richard Rawlings";
In October 2014, the company opened a live music venue named, Gas Monkey Live. The venue is estimated to be capable of 2500+ people and will feature a diverse array of the top touring artists from around the world like GWAR, Los Lonely Boys, Opeth, In Flames, Say Anything, Saves The Day, and much more.
Achievements
Richard being multi-talented personality involved himself in various fields, such as car racing, hosting TV shows and has been recognized as the successful entrepreneur. He is a veteran of transcontinental road rallies and won the Gumball 3000 and the Bullrun twice. He is the world record holder in Cannonball run which seems to be his biggest achievement of his growing career period. Richard's inspirational saying: "If we're gonna have fun, it better have a motor". His addiction toward numerous car has made himself an owner of plenty of cars.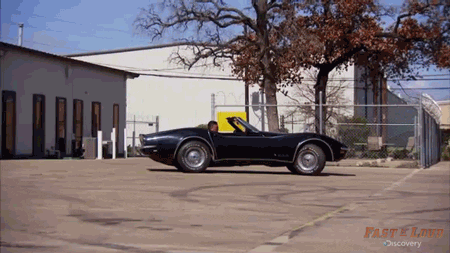 Richard Rawlings having fun on his car
Net worth & Book
Richard, a cross country racer has the net worth of $15 million. It is also estimated that Richard is paid $50,000 per episode. He has balanced himself in the various skillful act and earned bulk amount. Richard has bought and sold several cars, which eventually made him a millionaire reality television personality who own house in Texas, cars, and different venture as well.
On 12 May 2015, Rawlings published his first autobiography entitled Fast N' Loud: Blood, Sweat, and Beers. The book deals about his thrill ride through his wild life and behind the scenes of his critically acclaimed show. A memoir and automotive handbook, revolving with outrageous points of interest and stunning stories, infused with witty foul-mouthed charm, which viewers adore.
Richard's Love Life & Marriage
Well, talking about Richard's love life and marriage, it's quite interesting. People are always curious to know his previous and current relationship.Richard married his long-term girlfriend Suzanne Mergele on August 7, 1997.
A throwback of Richard Rawlings and his wife Suzanne Rawlings
Source: Facebook
With the rising popularity of Fast N'Loud, Richard faced lots of difficulties in his married life. The loving couple separated after 10 years of marriage on August 14, 2009. They split up with mutual understanding due to the busy schedule of Richard during the promotion of his very first show "Fast N' loud". However, they couldn't stay away from each other and get reunited after five years of separation. It seems that this beautiful couple has strong bonding and are made for each other. They are together now. They don't have any children yet.
Richard was previously married to Karen K Grames before Suzanne Mergele. Richard and Karen got married in 1993. But their marriage didn't work out and divorced in 1994. Then after, he started an affair with (now wife) Suzanne, co-owner of the company, Addison Texas. Hence, Richard Rawling is fortunate in both professional life and his personal life.
Save
Save
Save
Others