Steven Michael Quezada Biography
Steven Michael Quezada is widely known as an American actor and politician. His popularity grew along with the highly appreciated and popular character as a DEA agent Steven Gomez in "Breaking Bad" (2008-2013). He also accomplished himself as comedian, producer, writer, and School board member.
Steven's Early life
Steven was born on Feb 15, 1963, in Albuquerque, New Mexico, U.S. He graduated from West Mesa High School in 1981. Steven further enrolled in Eastern New Mexico University to study theater arts after completion of high school study.
Steven's acting career
Steven Michael Quezada started his acting career since 2005 in Television film as a Rental Agent in "Three Wise Guys". In 2006, he played in the hit comedy movie "Beerfest" as Mexican and "First Snow" as Mechanic Enrique.Likewise, he portrayed the role as Leon in the film "Milagros" in 2008.  He starred as Cop in "Kites" in 2010 which enhances his acting career smoothly hereby.
"The Reunion"(2011), "Warrior Woman"(2011), Powder Pigs (2012), Supernal Darkness(2013) were some of the remarkable movies that he played which flourish his acting career ahead.
Similarly, in 2015, his acting ability was viewed in movies like "La Vida Robot", "The Condemned 2" as Salgado and Raul Baccaro respectively. He was cast in movie "Fender Bender" as Mario and "Outlaws and Angel" as Alanzo in 2016.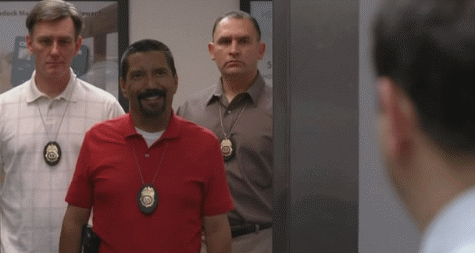 Steven Michael Quezada (Steven Gomez) smiles in a doorway during an episode of AMC's Breaking Bad
He also presented himself as host in late night talk show "The After After Party", produced by an association with Mark Padilla and Marco Nunez. He also appeared in the music video in 2014, "Give Me Back MY Hometown" by Eric Church.
Steven's Political Career
Steven has engaged himself in a Political career as well. He won with 36% of the vote in the Democratic Nomination for New Mexico's Bernalillo Country Commission District, followed in 2016. He got victory over Republican Patricia Paiz in the general election.
With his growing political career, he also received blackmail threats via mail. According to Steven, he received an email from [email protected], a person called Robert Sanchez, which entitled as 'Steven M Quezada history of Criminal activity', where Steven is warned not to run country Commissioner or he will expose his past. Steven also revealed on his facebook page that he did mistake in his past. But, also have said that he is not the same guy as before.
Despite the threat, he is successfully running Bernalillo Country Commission.
Other than this success, he has involved himself in various praiseworthy activities that make him extraordinary and notified among fan followers. He also runs comedy club since 1987. He also holds Comedian of the year awards five times from New Mexico Hispanic Entertainers Association.
In addition, he is the most charitable celebrities from New Mexico as he collected money for an organization like Youth Development Incorporated, The Boys, and Girls club of New Mexico etc. He is actively doing social service too, providing on the job training to future filmmakers and provides facilities to learn acting classes for local children of Albuquerque. According to his motto, Youth Development is essential to develop the nation. So, he always tries to do something to uplift youth's career.
He is also recognized as Secretary Of the  Board of Albuquerque Public School, largest School Districts in the nation.
Personal Life: Wife, Awards, Net Worth
Steven got married at the age of 44, to Cherise Desiree Quezada in 2007. They are parents of four children and lives a prosperous life in New Mexico. There is no any differences between them and Cherise is the supportive wife of Steven Michael Quezada.
Steven Michael Quezada and wife, Cherise Desiree Quezada at the premiere of AMC Breaking Bad
Source: Hubmesh
"Breaking Bad"  was one of the major turning points for him as he was nominated and also won a Screen Actors Guilds Award in 2014. He started getting more attention from many directors and got many offers for the movie and television show.
His hard works and dedication resulted in him to earn a huge amount and hence his net worth is $3 million. He owns a house in Albuquerque, New Mexico. His favorite watch brand is Rolex.
Save
Others