Krysten Ritter, stunning and gorgeous beauty is a scholar in various field accomplishing herself as a former model, actor, writer, producer, and musician. She is much identified from her roles in Marvel Cinematic Universe (MCU) as Jessica Jones; on the AMC drama series Breaking Bad as Jane Margolis and on the ABC comedy series Don't Trust the B—- in Apartment 23 as Chloe. She achieved additional fame from her major roles in the series Gilmore Girls, What Happens in Vegas, 27 Dresses, She's Out of My League (2010), Veronica Mars (2014), Big Eyes (2014), Gossip Girl, Gravity, 'Til Death, and The Blacklist.
Early Life
Krysten Alyce Ritter, the daughter of Kathi Taylor and Gary Ritter, was born on December 16, 1981, in Bloomsburg, Pennsylvania. After separation of her parents, her father moved to Benton and she was raised by her mother and stepfather. She grew with her sister, Bailey Ritter on a beef farm, Shickshinny, the Pennsylvania. Ritter enrolled in North West Area High School and graduated in 2000.
A throwback of young Krysten Ritter's childhood photo (Source: Instagram)
Ritter is a truly sporty and adventurous girl since her childhood and was a bubbly, outgoing and funny with the growing age. As she grew, she became very skinny, thin and tall which added the possibility to became a model at teenage. She was in high school when she traveled to New York City on vacation and does modeling in Philadelphia. She was only 15 when she started her modeling career.
Career, interest, and  hobbies
Krysten as  a Model:
At the age of 15. Krysten was offered by a modeling agent at a modeling event at her local shopping mall, Wyoming Valley. She was then covered in Philadelphia Style Magazine. She signed with the Elite Model Management agency and Wilhelmina models in the beginning of modeling career. At the age of 18, she arrived New York and did print ads and on television. She also did a magazine, runway work in Milan, Madrid, New York, and Tokyo. She focused on modeling for almost five years. Later, she wanted to became an Actress.
She also starred in music videos like "Waffle" by 'Seven Dust' and "Could I Have This Kiss Forever" by Whitney Housten, which boosted her fame and help her to go long way in an acting career.
Krysten as an Actress:
Krysten was very much interested in acting and therefore joined acting classes with renowned  Acting Coach Marjorie Ballentine. With his fruitful guidance, Krysten was selected from audition and appeared on Tv Commercial  "Dr. Pepper". Krysten,  followed with entertaining, natural acting and crazy attitude, then made Tv debut in 2004 as Bryn in an episode of "Whoopi".
Her film career began with the small turn in 1950s art history students in Mona Lisa Smile (2003) by Julia Robert. She made her first appearance on the big screen, the romantic comedy "Someone Like You," as a model in 2001.
She has guest starred in many television shows such as Veronica Mars, Gilmore Girls(episode 8 (2009-2007) as Roro Gilmore's friend.) She played supporting roles in  Romantic Comedies "What Happens In Vegas?"  and "27 Dresses".
In 2011, Ritter was cast in the comedy movie, "Life Happens" which was co-written by herself with director Kat  Coiro. This movie was based on two best friends coping with the pregnancy and motherhood of Ritter's character.
In 2014, Ritter played a lead role in series Jessica Jones in Marvel Television, where she managed to gain lots of audiences for her delightful act. Nevertheless, she is eventually known as Jane Margolis in "Breaking Bad" and as Chloe in "Don't Trust the B* In Apartment 23.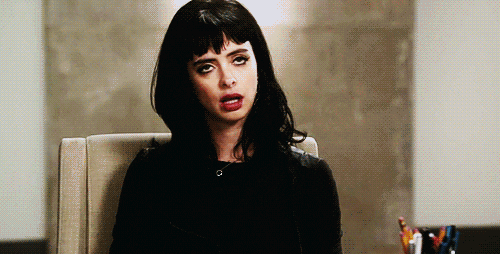 Krysten, as Chloe in "Don't trust the B in Apartment 23"
Personal Life, Award, and Net Worth
It's no wonder calling Krysten as beauty with brain. She is intelligent, multitalented, sexiest and beautiful actress. There could be many boys falling for her and crazy about her. Some well-known personality were linked with her. There was a rumor that in 2010, she dated an actor Ivan Sergei. It didn't  go for long.
Again, in 2011, she was in a relationship with American Actor, Brian Geraghty. This love affair also didn;t turn as a happy ending and their separation news came as the headline. Krysten Ritter is an openly bisexual and also had a brief relationship with actress, Haley Hudson.
Currently, it is reported that she is dating Adam Granduciel, singer and guitarist from "The War On Drugs"," Under The Pressure", "Red Eyes" etc. But, she hasn't  clarified about her relationship with Adam publicly till now. She has no record of marriage and has no children.
Krysten Ritter and her boyfriend Adam Granduciel, American Guitarist who played for The War on Drugs and Capitol Years
Source: Daily Mail
Krysten is a versatile actress, has nominated for the various award and she gets a trophy for best actress in 2016. She has various upcoming projects like Netflix next superhero TV series "The Defenders" and also Brett Hayley's film "The Hero" in 2017.
As of April 2017, she has over 296k followers, 573k followers in twitter and Instagram respectively. Krysten Alyce Ritter is an incredible actress having a net worth of $7 million. She owns a house in California, comprises of 6 rooms and wonderful view. This property has an estimation of $13 million.
Interest and hobbies
Krysten is an animal lover and has a dog named Mickey. She often posts her picture with her pet, Mickey in social sites. She even had a baby calf, Jake as a pet. But, it became too big to kept in the home and later send to the pasture. She usually goes there and visits Jake.
Krysten is also known as a big supporter of PETA, and has posed in PETA`s campaign, the main goal of which was to warn dog owners of possible dangers of leaving their dogs in cars during summer.
Krysten Ritter morning walk with her pet, Mikey at Runyon Canyon Park (Source: DailyMail)
Krysten, 35 years old, is still fit and healthy. She is tremendously beautiful and well maintains. The reason behind her fitness and proper gesture is Yoga and hiking. She believes in doing regular exercise, meditation and some of the yoga steps rather than hiring a personal fitness trainer.
Krysten loves singing. She can play guitar very well and serves as a singer, songwriter and guitarist of a famous band called NYC band," EX -Vivian".  She also writes a book 'TV Pilot' revealing and relating about her experiences as a "Model".
Save
Save
Save
Save
Others