Wynton Marsalis Biography
Wynton Marsalis is an American trumpeter, composer, music teacher, and artistic director of Jass. He is a multi-Grammy Award winner who performed the national anthem at the Super Bow! XX in 1986.
Wynton Marsalis Early life and Education
Wynton was born as Wynton Learson Marsalis on 18th October 1961 in New Orleans, Louisiana. He was born to a father, Ellis Louis Marsalis, Jr., a pianist and music professor, and mother, Delores, and grew up along with his five siblings Branford, Ellis, Delfeayo, Mboya, and Jason.
Marsalis used to perform with the New Orleans Symphony Brass Quintet, New Orleans Community Concert Band, New Orleans Symphony while attending Benjamin Franklin High School in 1979. He also enrolls at Tanglewood's Berkshire Music Center and was the youngest musician to be admitted at that time.
Wynton Marsalis Career
During Wynton time at Tanglewood's Berkshire Music Center, he received a grant from the National Endowment for the Arts. He was described as the best classical trumpet player by John McLaughlin, and the best jazz trumpet player we have today.
He joined the Jazz Messengers in 1980 and performed with Sarah Vaughan, Dizzy Gillespie, Clark Terry, Tony Williams, Ron Carter, and several other prestigious jass players.
Youtube: Wynton Marsalis Yong Master Class;
Wynton also focused on music composition. His first major work: a string quartet named as "At the Octoroon Balls" made him as a classical composer. He was also the first musician to win Grammy Award for both jazz and classical recordings in 1983.
Moreover, Marsalis won nine Grammy Awards till now. He was also honored with the Louis Armstrong Memorial Medal and the Algur H. Meadows Award for Excellence in the Arts, inducted into the American Academy of Achievement, and several others.
Additionally, he was also listed as one of America's 25 most influential people and received the National Medal of Arts from President George W. Bush in 2005.
Furthermore, Wynton Marsalis is also an author. He has written five books which include Sweet Swing Blues on the Road, Jazz in the Bittersweet Blues of Life, To a Young Musician: Letters from the Road, Jazz ABZ, and Moving to Higher Ground: How Jazz Can Change Your Life.
Wynton Marsalis Personal life
Wynton won the heart of millions of people by his music and there is no doubt that many of them wanted to date and marry him. He seems to be totally focused on his career as he hadn't dated much.
He had a long-term relationship with his girlfriend Victoria Rowell. The couple met each other in 1990 and welcomed their first child Jasper Armstrong but never married.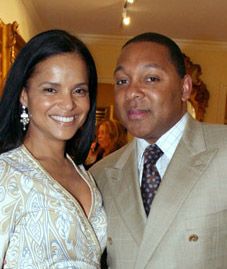 After seven years of dating, Wynton and Victoria got separated. Afterward, he started dating another woman with whom he welcomed their children Simeon and Wynton Marsalis Jr.
His another partner name isn't disclosed yet. He is never married and currently single. He is living a luxurious lifestyle in New Orleans along with his children.
Wynton Marsalis Net worth
Marsalis earns the good sum of money in his career. His music has won the heart of millions of people and he was awarded numerous prestigious award for her outstanding music. According to different sources, it is found out that his recordings have been sold worldwide for around seven million.
Wynton traveled around the globe for several music concerts and has toured over 30 countries. His numerous albums are successfully hit and able to earn a huge sum of money. Being trumpeter, composer, music teacher, and artistic director of Jass, he has several sources of income. As per 2017, it is estimated that his current net worth is around $17 million.
Others