Alexandra Daddario Biography
Alexandra is an American actress. She is best known for playing Annabeth chase in the Percy Jackson film series and Blake Gaines in San Andreas. She starred in the movie like Texas Chainsaw 3D and Hall Pass and guest-starred on series like "White Collar," "It's always sunny in Philadelphia," "True Detective," and American horror story, "Hotel."
Early Life and Education
Alexandria was born on March 16, 1986, in New York City and she is the eldest child of Christina, a lawyer and Richard Daddario, a prosecutor and a former head of the New York City Police Department (NYDP) under the mayor of Michael Bloomberg. Daddario has a brother named Matthew Daddario, who is also an American actor, known for his role as Alec Lightwood on the Freeform fantasy series Shadowhunter. She also has a sister named Catharine. Alexandra paternal grandfather is Emilio Q. Daddario, a democratic member of the United States House Of Representatives for the state of Connecticut from 1959 to 1971. She has Italian, Czech, English and Irish ancestry.
Twelve year old, Alexandra Daddario (R) and Josh Peck (L) with Joe Torre (Back)
Source: Pinterest
Daddario grew up on Manhattan's Upper East Side. She is a student of Brearley School and the Professional Children's School, which is located in New York. At the age of 11, Daddario decided to be an actress and attended Marymount Manhattan College in New York. She claimed to have studied the Meisner acting technique, an approach to acting which is developed by the American theater practitioner Sanford Meisner.
Alexandra Daddario Career
Alexandria first appearance on the television was at the age of 16, she played victimized teen Laurie Lewis on the soap opera "All My Children." Her major role in the film was as Annabeth Chase in the 2010 fantasy-adventure film "Percy Jackson and the Olympians: The Lightning Thief."  She also had a major role in the series "White Collar" as Neal Caffrey's love interest Kate Moreau. In 2011, she co-starred in "Hall Pass" and had a recurring role on "Parenthood."
Alexandra Daddario in Vanity Fair Source: Vanityfair
In 2012, Daddario played in the music video for Imagine Dragons' "Radioactive" and had an episode guest stint on It's Always Sunny in Philadelphia as Ruby Traft. In the fall of 2013, she reprised her role as Annabeth Chase in Percy Jackson's "Sea of  Monsters". She then appeared in the zombie comedy "Burying the Ex" with Anton Yelchin and Ashley Greene. "Burying the Ex" was nominated at the Venice Film Festival in 2014.
She also gained attention for her role on the first season of the HBO series "True Detective." In the same year, Daddario had a lead role in the disaster film "San Andreas" as Blake Gaines with Dwayne Johnson. Daddario appeared in Will Forte-directed comedy series "The Last Man on Earth" and had a guest appearance on American Horror story, "Hotel," where she played the role of fictionalized version of designer Natacha Rambova.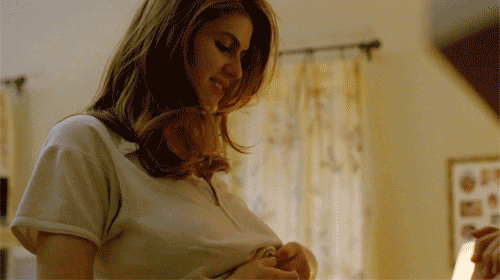 In 2016, she played the supporting role in the Nicholas Sparks film The Choice. Daddario was cast as the female lead in the film adaptation of Baywatch, reuniting with her San Andreas co-star Dwayne Johnson.
Personal Life and Net Worth
Alexandra Daddario was in long term relationship with Jason Fuchs from 2006 till 2009. Jason Fuchs is an American television and film actor and screenwriter, best known for co-writing Wonder Woman. She then fell in love with Logan Lerman, an American actor, known for playing the title role in the fantasy-adventure Percy Jackson films.
It is rumored that Daddario is having a secret affair with Zac Efron, an American actor, and singer. He is eminent for his lead role in Disney channel's original teen/ children's romantic comedy musical movie, High school Musical.
Alexandra Daddario and her boyfriedn, Zac Efron showed their chemistry on the set of Bay Watch
Source: SplashNews
As of now, Alexandra Daddario is not married yet and currently lives in Los Angeles with her dog named Levon. Her nickname is Alex and her zodiac sign is Aries. Alexandra loves to have an omelet, grilled salmon, and M&M.
Net worth
Daddario estimated net worth is about 4 million Dollar and she is the 2017's Top 20 richest actresses in the world. She endorsed a product called Eileen Fisher and Tiffany. Alexandra Daddario is one of the faces of Marie Claire's Next Big Thing initiative and associated with Untitled Entertainment agency and Harvest Talent Management agency.
Save
Save
Save
Save
Save
Others