Bernice Burgos
is an entrepreneur and Instagram model with more than 2.6 million followers. She has starred in a number of music videos and was featured on
MTV's Wild 'N Out
. Burgos owns a clothing line called
Bold & Beautiful.
Bernice Burgos Early Life and Education
Burgos was born on April 17, 1980, to
Puerto Rican
descent parents in the Bronx, New York City, New York, United States. She has not mentioned her father and mother's name on social sites. Burgos grew up in the tri-state area, between New Jersey and New York City. She holds an America nationality and belongs to black ethnicity.
Burgos young
Bernice Burgos Career
Bernice Burgos began her career working as a bartender and waitress, at the same time, she joined modeling as well. Burgos starred in music videos and also starred in
MTV's Wild 'n' Out
. She has performed in several music videos and men's magazine covers in the early 2000s. Burgos
has even walked the runway. Even after she got popular worldwide, she continued to work as a bartender for a while. Bernice has appeared in the music videos such as
J-Cole
's '
Work Out
,'
Hal Linton
's '
Southern Hospitality
' and
Jaheim
's '
Ain't Leaving Without You.
' https://www.instagram.com/p/BUcKRD2AC39/?taken-by=realberniceburgos&hl=en Bernice also has appeared
Rick Ross
's '
Diced Pineapples
' video, featuring
Drake
and
Wale.
In addition to that, she has also appeared in different print publications which include
Show Magazine
,
KING Magazine
,
XXL Eye Candy
,
The Source
,
SHOW Black Lingerie
and video shoots with the Black Men Magazine and the Hot New Hip Hop.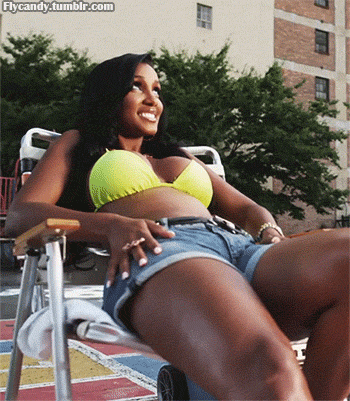 Bernice Burgos in J. Cole's "Work Out" music videoBernice is currently working her own line of lingerie under the brand
"Bold & Beautiful,"
where she sells sleepwear invented for women of all shapes and sizes. Her followers double tap her butt pics all day.
Bernice Burgos Personal Life
Burgos linked with Canadian rapper,
Drake
in 2012. She knew him for over sixteen months before they were seen together in Australia. After the couple was seen together, rumors about their affairs were all over the media.
Bernice Burgos with her ex-boyfriend DrakeAlthough the relationship did not get official and ended in 2015. Bernice also dated her boyfriend 
Marion Suge Knight
, founder, and CEO of
Black Kapital Records
and
Death Row Records
, record producer and music executive as well as a former football player.
Bernice Burgos sexy posed for a photoshootAccording to New Jersey Newsroom, Bernice was arrested for allegedly striking a child in 2010. She was charged with one count of endangering the welfare of a child, a second-degree crime. Bernice Burgos is recently rumored to be dating a married man, rapper, T.I. in 2016.  The couple is reportedly spotted together in several cities including Las Vegas and Atlanta. Photos of the King of the South and Burgos have been circulating the web and has been sticking together at countless restaurants and night clubs.
Bernice responded to rumors of her breaking up T.I.'s marriage after Tiny pointed to her as a "pass around bitch" on Instagram. "That home had BEEN broken," Burgos wrote in the comments of the post. "And I've NEVER dealt with a married man in my life… Technically when a person files for divorce It's saying they're moving on with their lives & their marriage has failed… NEVER have I ever been passed around."
Burgos also touched on her relationship with T.I. in a series of videos posted online. While Burgos claimed that she and T.I. are just friends, she seemed to intimate that they had sex. "This is 2017," she said. "Ain't nobody gonna be waiting for pussy and waiting to fuck just because I'm getting separated. That's not true. Ain't nobody breaking no happy home. Ain't no none of that. That's none of my business. I'm there for him. He's a boss, and I'm a boss." Burgos stoppered off her videos by declaring that she would never be a side chick. It is unclear when her relationship with T.I. started, but by her criteria, it had to have been after Tiny filed for divorce. Tiny's disappointment with Burgos may come from her desire to reunite with T. I. https://twitter.com/doeboibeatz/status/873825909492641793 According to the source, T.I. reportedly decided he was done hiding his relationship with alleged side chick Bernice Burgos. TIP publicly show-off his new girl in town, Burgos on Meek [Mill] 30th birthday party in May 2017, Hollywoodlife wrote. The insider said, "
T.I. received divorce papers from Tiny, on April 24.
" However, the rapper has entirely moved on.
Bernice Burgos Net Worth
According to reports, Burgos is currently single and the mother of an 18-year-old daughter, who is said to look like her mother. Fans of Bernice Burgos are regularly searching for her hot pics, and it's no surprise, just look at her! Bernice Burgos' Instagram account is full of sexy pictures of her at the gym and of her showcasing her latest designs. https://twitter.com/berniceburgos/status/809114387852173312 As of 2017, Bernice Burgos has an estimated net worth of $1.1 million. The 5 feet 7 inches model has killer curves with the perfect body measurements of 36-25-40. Burgos is a tough woman who is working hard to balance her work life with her responsibilities as a mother. Being a single parent is tough at all times, and Burgos is up to the task. Behind the glamor is a courageous woman. She is also popular for doing plastic surgery however she has not confirmed yet by her, but her difference in appearance looks like she has done some plastic job. https://www.instagram.com/p/BUWwqZdgIdP/?taken-by=realberniceburgos&hl=en Here's a sneak peek of Bernice Burgos for ATLANTA TONIGHT, where she hosted the first day #EDENONPEACHTREE @ELLEVEN45