Gabriel Iglesias Biography
Stand-up comedian, actor and voice performer, widely known as "The Fluffy Man," Gabriel Iglesias is one of America's most famous comedian. He reckoned for his relevant stories that deals with ups and downs of modern life. Gabriel is good natured self-condemn and has a vivacious posture. With his unique and animated comedy style, he is popular among the fans of all ages.
Iglesias is one of the countless successful touring comedians and is known for his high energy and cartoonish character voices. He likewise continued his commercial success, regularly featured on Comedy Central Programming as well as still touring with his own comedy show.
Early Life
Gabriel Jesus Iglesias was born in San Diego, California on 15 July 1976. Raised by a single mother in Long Beach, Gabriel is the youngest of six children. He had evolved a strong sense of humor with the difficulties he faced during his childhood. The talented comedian is a mixture of storytelling, parodies, characters and sound effect that brings his personal experiences to life.
Young Gabriel Iglesias at the age of 19 (Source: Pinterest)
Career
Iglesias made his debut performing stand-up comedy in 1997 at the age of 21; leaving his job at Cell Phone Company. He set out to enhance his comedic skills and performed where he could find the audience; including biker bars and hole-in-the-wall joints.
In early 2000, he won a recurring role on the Nickelodeon sketch comedy series before tapping his first half-hour in "Half-hour Special Present." Iglesias also participated in the reality series "Last Comic Standing" in 2006 and 2007. He also voiced the entire Mexican family in "Padre de Familia" which followed by different other shows including animated comedy 'Family Guy' and Disney animated series 'The Emperor's New School.' Gabriel's "I'm Not Fat. I'm Fluffy," was released by Comedy Central in November 2009.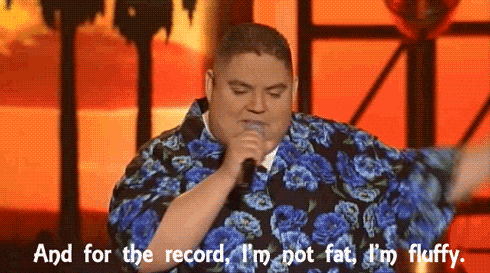 Gabriel Iglesias perform at the Fox Theater, where he gave his first theater performance in 1997 Source: YouTube
In 2011, the comedian was the host as well as the producer in the show 'Gabriel Iglesias Presents Stand-up Revolution.' Gabriel not only hosted six episode of Equals Three but also made a guest appearance on the YouTube channel 'Epic Meal Time's 'Fast Food Fluffy Cake'  in 2012.
Later that year he made his big screen debut in a supporting role as a strip club DJ and drug dealer in the movie 'Magic Mike' with Channing Tatum as well as in its sequel 'Magic Mike XXL.' " In 2013, he starred in Comedy Central's Aloha Fluffy Parts 1&2," which was highly appreciated by the audiences.
In 2014, Gabriel released his first stand-up concert film 'The Fluffy Movie' recorded live at the SAP center in San Jose, California. He also voiced characters in the animated films like 'The Nut Job' and 'El Americano: The Movie.'  A year later, Iglesias joined the ranks of comics like Andrew Dice Clay, Steve Martin, Kevin Hart and Aziz Ansari by being one of the comedians to perform at Madison Square Garden in New York City. In 2016, the actor released his 6th one- hour comedy special, 'I'm Sorry For What I Said When I Was Hungry' on Netflix worldwide.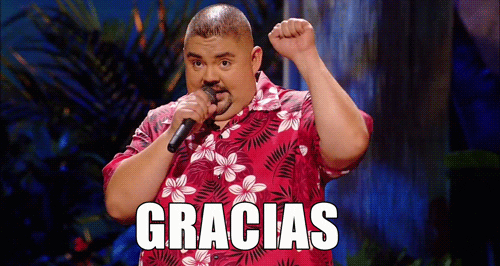 Gabriel Iglesias (Fluffy)
Currently, this phenomenon comedian is working on a non-scripted comedic series co-starring his eccentric tour mates and fellow actors which will be launching its 3rd season on Fuse TV in 2017. Iglesias has also been cast and will be voicing in the upcoming animation films including 'Smurfs: The Lost Village,' 'Ferdinand,' 'The Nut Job.'
On March Fluffy Mania world tour got canceled due to his health issues to which he posted a photo of him the stage and apologized to fans for the sudden cancellation with the reason captioning "Fluffy is fine, but Gabriel needs help."
Personal Life
The comedian star, Gabriel Jesus Iglesias (Fluffy), is currently dating Claudia Valdez. In 2008, the pair were spotted attending 'A Wish For animal benefit' at laugh factory and ever since they have been dating each other. They are not married but are living happily together in Whittier, California with Valdez' son named Frankie.
Gabriel Iglesias and Claudia Valdez (Source: Pinterest)
Net Worth
Gabriel Iglesias has been in comedy industry since long for about 20 years, and he is a well-paid comedian. Gabriel Iglesias is an American actor with a net worth of $18 million. He has earned his wealth in the field of stand-up comedy. Gabriel's career grew when he appeared in 2 episodes of a Nickelodeon series. In his comedy, he uses sound effects and affected voice, storytelling and constant references to his weight and Hawaiian skirts and is still impressing the audience.
Others