A former presenter on current TV, Jason Silva is a well known Venezuelan-American actor, best recognized as a television personality, filmmaker, and public speaker.  His primary work includes using technology to entertain people about Philosophy and Science. He also writes and produces short films and co-host National Geographic's Brain Games.
Early Life
Jason Luis Silva was born on February 6, 1982, in Caracas, Venezuela. Silva's mother, Linda Mishkin is an artist of Ashekanizi Jewish descent, and his father Luis Manuel Silva was a former Christian who converted to Judaism. According to Jason, they were secular, and lover of art and theater.  He was raised with his siblings Jordan Silva and Paulina Silva in Venezuela.
A throwback of young and long hair, Jason Silva
Source: Instagram/Jason Silva
Silva attended the University of Miami to achieve a degree in film and philosophy. In his teenage, he was inspired by Charles Baudelaire, an essayist, an artist, and critic.
Career
Jason Silva had a keen interest in filmmaking and documentation. So,  he initially started "Salons" in his house to discuss ideas in his teenage. Later, he produced and starred in the documentary "Textures Of Selfhood" focusing on spirituality; a short film about life in Miami of Silva and Lugavere. This documentary movie got high attention from the producers, and since then, he was identified as passionate story tellers.
Jason Silva as a performance philosopher, he uses television, online media and lectures halls to share his perspectives, exploring human consciousness in context way.  Jason is an active public speaker at Google, The Economist Ideas Festival, TEDGlobal and the Festival of Dangerous Ideas. He once presented "We are the God Now" at the Festival of Dangerous Ideas, in Sydney Opera House.
A Meme of Jason Silva taking over by storm
In June 2012, Silva premiered a short video entitled "Radical Openness," which was also featured in "La Ciudad de las Ideas" conference, on 10 November 2012.
Jason Silva is also a presenter and producer on AI Gore's  cable network current TV. In 2013, he appeared as host in National Geographic Channel's  "Brain Games" along with Appolo Robbins.  The show was brainstorming and interactive games, which overlooked perception, decision making, and patterning. It was fortunate to collect 1.5 million viewers on episode 1  and 2. It also sets a record, defined as highest rated series that launch in channel's history.
Jason Silva also hosted short series "Origins" which featured 8 episode on National Geographic Channel in 2017. The series overview the initial phase of humankind and the innovation that transform us to modern.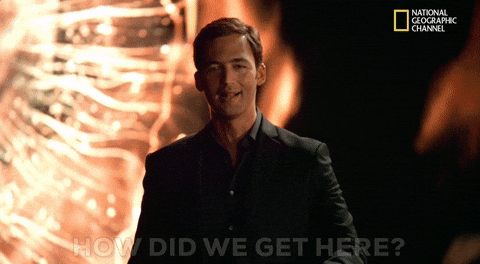 Jason Silva
Other Appearances
Jaso Silva made guest appearances on "CBS This Morning" on August 15, 2012;  Australian ABC program Q &A on September 24, 2012;  and also in season 2 of "Star Talk."
Jason also creates "Shots of Awe" a YouTube channel on the Discovery Digital Networks TestTube in May 2013. It was much popular among young generation. He has been featured in The Atlantic, The Economist, Vanity Fair, Forbes, Wired and so on.
In June 2013, Silva's film "Attention: The Immersive Power Of Cinema" was part of an exhibition at MEWO in Germany. In 2014, he worked as an advisor for National Geographic Channel's Expedition  Granted competition.
Personal Life
The Futurist, an Idea DJ and performance philosopher, Jason Silva is single. He has not disclosed anything about his private life. In 2011, he was rumored of having a relationship with actress, Heather Graham. They were often seen together in various celebreties events and restaurant.
Jason who's love life is a mystery has been the gossip of being a gay. However, he has never clarified his sexual orientation yet.
Jason Silva and supposed-girlfriend, actress Heather Graham at Sony Pictures Classics 20th Anniversary Party at the Toronto International Film Festival in 2011 in Toronto, Canada
Source: Zimbio
Net Worth
Jason Silva has multiple sources of earnings as he is associated with television shows and short films. The dynamic TV personality also runs shows debating about philosophy and spirituality.  He also served in National Geographic  Channel from which he earns an excess sum of money. He is involved in different reputed jobs and thus successful in accumulating a net worth of $ 10 million.
Others