Matt Dillon, Oscar-nominated actor is widely recognized as an American Actor and film director. He is identified as a teen idol, featured in popular movies like Little Darlings (1980),  My Bodyguard (1980), Tex (1982), The Outsiders (1983), Rumble Fish (1983), and The Flamingo Kid (1984). He was also nominated for Saturn Award for his performance in the Fox Television Show "Wayward Pines" as Ethan Burke.
Early Life
Born on 18 February 1964,  Matthew Raymond Dillon grew up in New Rochelle, New York, USA. His parents were Mary Ellen (housewife) and Paul Dillon (sales manager for Union Camp, painter and bear toy manufacturer). He was raised with five siblings, one sister, and four brothers in Roman Catholic family. Kevin Dillon, an American actor, known for HBO comedy series, Entourage is the brother of Matt Dillon.
His ancestors were  Scottish and German and mostly were Irish descent and later moved to Mamaroneck, New York. Dillon attended Hommocks Middle School in Larchmont. He is a high school drop out student and didn't study further.
Career
Actor
Matt Dillon begins his acting career from the debut teen drama, "Over the edge" directed by Jonathan Kaplan. This movie's  collection was average in the box office, released in May 1979. Then after, in March and July 1980, he was cast in teenage sex comedy movie "Little Darlings" and serious teen drama "My Bodyguard," which was successful commercially. Those movies were remarkable for teens, and his popularity rises among them.
He also appeared in Jean Shepherd PBS special "The Great American Fourth of July and Other Disasters."  He then appeared in "Liar's Moon,"  as Jack Duncan, playing the role of a poor boy from Texas who fell madly in love with wealthy banker's daughter. Also, he was much renowned from the movies like" Tex" (1982) as Mc Cormick, "The Outsiders" as Dally Winston (1983) and "Rumble Fish" as Rusty James(1983).
Matt Dillon(in  the middle) as Rusty James  in "Rumble Fish"(1983) (Source: Telegraph)
Furthermore, In 1989, his performance was appreciated by critics in Gus Van Sant's "Drugstore Cowboy," portraying Bob Hughes, a drug addict.
Moreover, Matt appeared in the comedy "You, Me and Dupree," as Carl Peterson on July 14, 2006, opposite to Kate Hudson and Owen Wilson. He also appeared in several music videos such as Madonnas's Bad girl video, Irish Folk Punk's "Fairy Tale of Newyork"(1987) and  "Been there all the time " from the album 'Beyond'(2007).
His latest appearance was the role of 'Secret Service Agent' in Fox 10 episode series "Wayward Pines." Recently, the announcement has been made by Lars Von Trier that he will play the lead role in "The House That Jack Built." Matt's upcoming thriller movie will probably be released in 2018.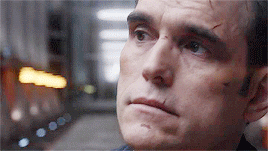 Matt Dillion as Ethan Burke in Wayward Pines
Director and Narrator
Matt Dillon is a Writer and Director of the film "City of Ghost," released in 2002, starring himself, James Caan and Gerard Depardieu. He started directorial debut from HBO's gritty prison drama Oz in 1997.
He presents himself as narrator and contributed his voice to a novel "On the Road," the audiobook version of Jack Kerouac. He also narrated Once in a lifetime: The Extraordinary Story of the Newyork Cosmos in 2006.
Awards Achievement
Matt Dillon was nominated and won a number of awards in the different category. He has won the heart of public and critics with his outstanding performance in various movies. He was critically acclaimed for the movie "Crash," where Dillon played the role of a racist cop. He won Independent Spirit Award for this film and also nominated for an Academy Award, Critics Choice Award, BAFTA, and  Screen Actors Guild AwardAward. He achieved Critics Choice Award and Screen Actor Guild Award for best Ensemble for this movie.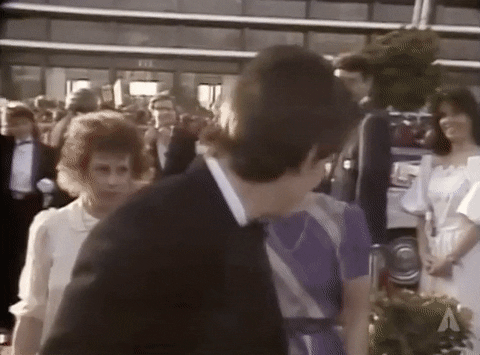 Matt Dillion attending the Academy Award in 1983
He received IFP Spirit Award in 1990 for his performance in "Drugstore Cowboy" as a drug addict. He achieved "MTV Movie Award " in 1998's movie "There's Something About Mary" for best villain. He has always been praised for his versatility in acting.
The Documentary Dear America: Letters From Home was co- narrated by Matt Dillon, which was also another remarkable achievement in Television Industry.
Personal Life and Net Worth
Matt Dillon is handsome and one of the hottest actors in America, who has been spotted with many actress and beautiful ladies. However, he is not yet married, though he has many girlfriends with whom he was linked up with. Dillon has past relationships with Brooke Shields, Melanie Griffith, Eliza Dushku.
Matt Dillon was in a three-year relationship with actress, Cameron Diaz, co-stars of "There's something about Mary" from 1995 to 1998. They came closer on the set of the movie, but it couldn't run more than three years.
Matt Dillon and ex-girlfriend, Cameron Diaz, whom he met in Minnesota
Matt, 53 years old still doesn't have a wife. There was a rumor of him about being gay, but Matt Dillon does not yet admit it. He is currently single.
Although, he is not much open up with his personal life; his profile is growing tremendously in his acting career. He is a famous and fruitful celebrity having a net worth of $35 million. He loves traveling and fond of learning a new culture.  He has lots of upcoming projects in his hand and is living happy and chilled life in his house in the United States.
Others