Missy Franklin is an American swimmer and five-time Olympic gold medalist. At the 2012 Summer Olympics, she won gold in both the 100-meter and 200-meter backstrokes, and two more gold medals with the 4-by-200-meter and 4-by-100-meter relay teams.
Early Life & Education
Melissa Jeanette "Missy" Franklin was born on May 10, 1995, in Pasadena, California. Her father, Dick is a former All-Canadian football player for Saint Mary's University in Halifax, Nova Scotia, he played shortly for the Toronto Argonauts of the Canadian Football League as an offensive lineman. Her mother, D.A. Franklin is a physician. While working for 7-Up in Ontario, Dick was transferred to the United States. Eventually, the family settled in Denver, Colorado, where Dick was a senior position with Coors Brewing Company.
Cute little Missy Franklin and her father, Dick Franklin
Source: Instagram/Missy Franklin
Franklin grew up in Centennial, Colorado and began swimming at the age of 2. She requested her parents to allow her to join summer league at 5 and started year-round club swimming at 7. Franklin enrolled Regis Jesuit High School in Aurora, Colorado and graduated in 2013. She is working toward her degree at the University of California – Berkeley.
Franklin's mother advised that her daughter considers competing for Canada to join the demand of qualifying for the U.S. National Team due to the ambitious depth of American swimmers. Franklin, however, chose to represent the United States, citing her patriotism for her homeland.
Young Missy Franklin
Source: Instagram
Early Career
Franklin joined the Colorado Stars travel swim team at the age of seven. It was not clear to Franklin's parents that Missy held such a natural talent until other members parents' brought it to her parent's attention. At the age of twelve, Franklin began competing against girls that were much older than she was. At the age of 13, Franklin competed at the 2008 U.S. Olympic Team Trials in Omaha, Nebraska, but did not fit to swim in any games at the 2008 Summer Olympics. Her best result was 37th place in the 100-meter freestyle.
A the age of 14, Franklin played in her first international event, Duel in the Pool, in 2009. She was named Breakout Performer of the Year at the USA Swimming gala, Golden Goggles in 2010. In 2011, she completed in her first long course world championship competition and grabbed five medals—three of them gold—and broke her first world record at the FINA World Cup.
2012 Summer Olympic Games London
The first time Franklin qualified for the Olympics was in 2012, and went full-throttle, competing in seven events, more than any other U.S. female swimmer in the history. She won three gold medals, one for the 100-meter backstroke, one for the 200-meter backstroke, and a third as part of the 4-by-200-meter freestyle relay team In London in 2012. She also won a bronze medal in the 4-by-100-meter freestyle relay. Her gold medal for the 100-meter backstroke was won in the second race of a "double", two back-to-back races that left Franklin just 14 minutes between her 200-meter freestyle semifinals and her 100-meter backstroke finals.
Missy Franklin (R) and Michael Phelps (L) pose with watches given to them as the best performers at the U.S. Olympic swimming trials, in Omaha
Source: Zimbio
She finished just 25 percent of her typical cool-down swim before bouncing back into the pool and winning the gold. For her second gold medal, Franklin set an Olympic record for the 4-by-200-meter freestyle relay, with a time of 7:42.92 along with teammates Dana Vollmer, Allison Schmitt and Shannon Vreeland.
Then she beat Russian swimmer Anastasia Zueva to take gold in the 200-meter backstroke and set a world record in the event. She was preparing for a close race with American Elizabeth Beisel, who fitted first in the final but ended third in the race. In an interview with USA Today, Franklin revealed her world-record win: "I just wanted to go out there and do my best and do the best time. That just happened to be a world record, so I couldn't be happier." Franklin won a fourth gold medal at the 2012 Olympics in August 2012, with the U.S. 4-by-100-meter medley relay team.
Missy Franklin and her Prom Night date, Daniel Butler, in 2013 (Source: Instagram)
As Franklin built to swimming superstardom, she opted not to turn professional, refusing productive endorsements, because desired to swim for a college team. She gained a scholarship to the University of California, Berkeley where she raced for the California Golden Bears swim crew, gaining four individual NCAA titles and helping UC Berkeley win the 2015 NCAA Women's Division Swimming and Diving Team Championship. Franklin also awarded the 2015 Collegiate Woman of the Year and awarded the Honda Cup.
After the 2015 NCAA Championship, Franklin became professional and set her displays on competing again at the Olympics. She put second in the 200-meter freestyle, 200-meter backstroke and qualified for the 4×200 meter freestyle carry team at the 2016 U.S. Olympic swimming trials, but displeased to qualify for 100-meter backstroke, which she had controlled at the 2012 Olympics.
Missy Franklin and Ryan Lochte at Golden Goggles
Source: Pinterest
2016 Summer Olympic Games in Rio
At 2016 Summer Olympic Games in Rio, Franklin got off to a disappointing start when she displeased to qualify and completed last in her 200-meter freestyle semifinal heat. She sent a message to fans on Twitter about the overwhelming result: "So sorrowful by my results from last night. Doing everything I can to keep my head up and keep fighting with all I have."
She cheered on her teammates, including Katie Ledecky, in her next tweet: "I am SO astonishingly proud of my teammates and watching them brings me so much joy. I can't wait to watch @katieledecky crush it tonight!".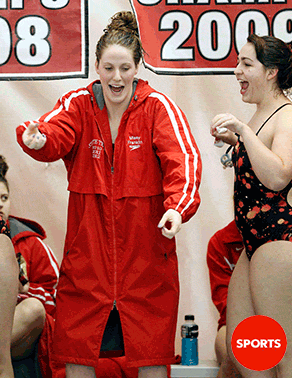 Personal  Life & Net Worth
Franklin also appeared in a March 2013 episode of "Pretty Little Liars". She is the author of "Relentless Spirit" (Dutton). Missy is in a relationship with John Martens, a fellow swimmer. The couple started dating just under a year ago and even practice at the same pool. Martens revealed that "We try to support each other,". He added "If we had a bad practice or a bad meet we try to bring each other back up, to tell each other to focus. It's only one bad day. You can work through it. Just that type of positive attitude."
Missy Franklin's boyfriend John Martens
Source: CelebrityCouples
According to celebritiesmoney.com and the-net-worth.com, ( 2017) Franklin's net worth is $2.5-3 million. Missy Franklin, 6′ 2″, has a seductive body measurement of 32-24-30. She is active on social networking sites like Facebook Twitter and Instagram.
Save
Save
Save
Save
Others