Noah Cyrus is an American actress and musician, well known for playing Gracie Herbert on the TV series "Doc" and "Hannah Montana," as herself. She contributed the voice of the main character of the animated Hayao Miyazaki fantasy adventure film "Ponyo." The youngest daughter of singer, Billy Ray Cyrus, and film producer, Tish Cyrus, Noah released her debut single "Make Me (Cry)," featuring Labrinth in 2016. Noah is the younger sister of singer, songwriter, and actress Miley Cyrus.
Early Life
Noah Lindsey Cyrus was born on January 8, 2000, in Nashville, Tennessee, U.S. She is the daughter of Billy Ray Cyrus, singer/actor, and Tish Cyrus. She has five siblings named, Miley Cyrus, a singer, and actress; Braison Cyrus, a fashion model; Trace Cyrus, a vocalist, and guitarist; Brandi Cyrus, a journalist, and Christopher Cyrus.
A throwback of young Noah Cyrus and her elder singer, Miley Cyrus, singer
Source: Pinterest
Career
Cyrus started acting at the age of three, playing Gracie Hebert on the sixth episode of the television show "Doc" from 2002–2004. Her elder sister, Miley also appeared in three episodes (Part 1; uncredited) as Kylie; in season 2, episode 8 (credited as Destiny Hope); and in season 4, episode 6 as Raul's friend. The series was created by Gary R. Johnson and Dave Alan Johnson.
Noah Cyrus on the set of Doc
Source:zutv.ro
From 2006 to 2010, Noah became a background dancer in the 2009's film "Hannah Montana: The Movie," and had minor roles on the sixth episode of the Disney Channel Original Series "Hannah Montana." She appeared in the Rich Correll's horror comedy fantasy film "Mostly Ghostly" in 2008, where she was seen as a Trick or Treater.
In 2008, she landed a role in the English version of the anime feature film "Ponyo," in which she voiced the title character and also sang the English version of the theme song, along with Frankie Jonas. In 2009, Noah also ran the web show "The Noie and Ems Show." However, the show ended in 2010.
Singing Career
Noah began singing with Barry Weiss' record label named "RECORDS" on November 15, 2016. After that, she signed a management deal with Maverick under Adam Leber. Later, she released her debut single, which was a pop ballad, titled "Make Me (Cry)," a collaboration with R&B songwriter, singer, Labrinth. The heartfelt lyrics scrutinize a paranoid relationship, while the music video shows Noah serenading her sleeping lover in bed.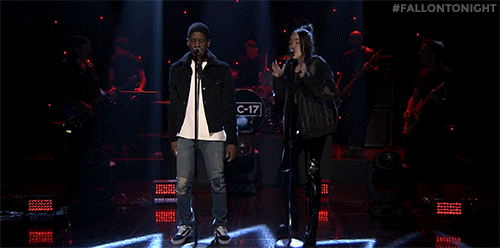 Noah Cyrus and Labrinth performs "Make Me (Cry)" on NBC's Tonight Show
In December 2016, she released an acoustic performance of "Almost Famous." She also lent her vocals to the song "Chasing Colors" performed by Marshmello and Ookay, which released in February 2017.
Noah released yet another single "Stay Together," during the 2017 TV Awards and MTV Movie; she sang a song in front of a half-pipe while her backup dancers emitted some serious mood.
Noah Cyrus brings 'Stay Together' to MTV Movie and TV Awards 2017
Source:Latest News – ittHON.ma
Personal Life
Noah was in a relationship with an American actor, Frankie Jonas in 2007. The couple met while in the production of the Japanese movie "Ponyo." However, they ended their relationship in 2009.
She is also rumored to be dating with Pierce Brosnan's son Bond, James Bond in 2013. Noah shared photos of her hanging out with a fellow child celebrity during the weekend. Nevertheless, neither the two accepted nor declined the rumor.
Net Worth
The 5′ 6″ teen sensational musician and actress is an animal lover; increasing philanthropist has sat in a PETA ad that opposes the use of Animal dissection in high school lab classes. As her 13th birthday plan, Noah raised an active fund for the ban of using horse-drawn carriages in New York in 2013. She holds an American nationality and belongs to white ethnicity. Her estimated net worth is $300000, and her income sources mostly hail from her acting, singing, and other brand endorsements.
Others