Gloria Borger is a Primetime Emmy Award-winning political pundit, journalist, and columnist. She is well known for contributing as an editor and columnist for U.S. News & World Report Magazine. Moreover, Gloria Borger currently works as a chief political analyst for CNN.
Gloria Borger Net Worth
Gloria's net worth is estimated to be around $ 2.5 million. She collected such a huge amount through her journalism career.
Broger is quite secretive regarding her personal life so did not reveal the statics of her net worth. She also did not reveal her salary, assets, properties, house, and more about her net worth.
Gloria Borger is the winner of Emmy Awards and even got the nomination for same awards. As she is still active in the field, so no doubt, her net worth will go higher in coming days.
Gloria Borger Personal Life
Gloria Borger was previously married to Lance Morgan. They married in 1982 and had a son, Evan Morgan. Her ex-husband Lance Morgan is the Chief communications strategist of Powell Tate. The couple spent some blissful moment for some years.
With her son and her ex-husband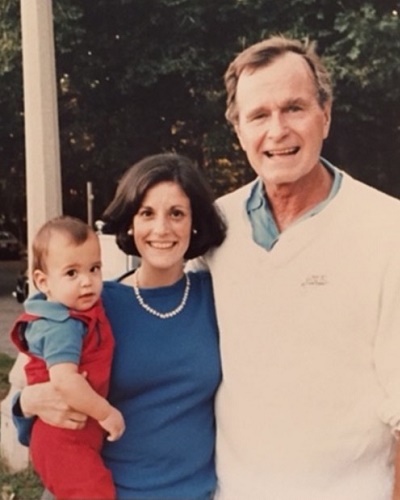 However, their happy married life didn't last long. They ended their marital relationship with divorce. Since then she is possible to be single. Their son Evan Morgan married Mary Anne Huntsman, Politician Jon Huntsman Jr's daughter on October 17, 2015.
Gloria Borger Early Life & Education
Gloria Anne Borger was born on 22th, September 1952 to American parents in New Rochelle, New York, U.S. Her father ran an electrical appliances distribution company, Borgers. She has a sibling, Paula Borger. Growing up in New Rochelle, she had an interested in journalism since her early age.
During her early age
Talking about her education, she attended New Rochelle High School. Later on, she graduated from Colgate University in the class of 1974.
Gloria Borger Career
After her graduation, Borger started her journalism career as a reporter at the Washington Star, where she covered the political news. Moreover, Gloria Borger co-authored a daily serial, eventually published as a book, Federal Triangle.
Gloria Borger then joined CBS News, where she contributed to CBS's Face the Nation, 60 Minutes II, and the network's special events coverage. Later on, Gloria Borger became the co-anchor of CNBC's Capital Report from 2002 to 2004.
On the CBS studio:
In 2007, Gloria Borger joined CNN, while working at the Television Station, she covered 2008 campaign trail. Gloria Borger also played an important role in the network's political coverage during the 2010 midterm elections.
Borger got an Emmy nomination for her 2010 piece The Odd Couple, where she interviewed powerhouse attorneys David Boies and Ted Olson. In 2013, she revisited the subject again, interviewing Boies and Olson before the same-sex marriage case was argued before the U.S. Supreme Court.
The result was a 30-minute CNN special, Marriage Warriors: Showdown at the Supreme Court, which earned a 2014 National Headliner Award.
Gloria Borger Achievements
During her early career, she gained the Watson Traveling Fellowship to study the British press. Her 2013 program, Marriage Warriors: Showdown at the Supreme Court on California's Prop 8 amendment case in the Supreme Court gained her the National Headliners Award.
Borger also won the Primetime Emmy Award for her Live Coverage in the 2012 presidential election. She also got Emmy nomination for her piece on attorneys, David Boies and Ted Olson fighting against Prop 8.
Gloria Borger Current Work
Gloria Borger currently works for CNN as a chief political analyst. Borger plays an instrumental role in the network's daily coverage while reporting on a variety of political and breaking news stories. Additionally, Borger also writes a regular column for CNN.com.
Others